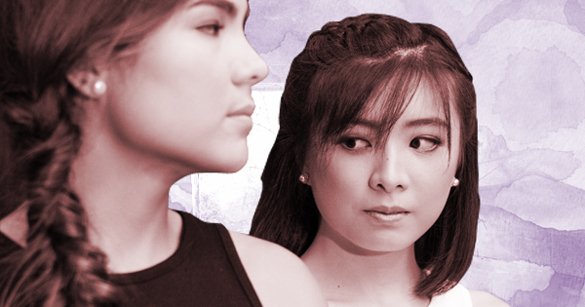 It pains me to say this but I am jealous. I envy how you make him smile, you make him laugh, and most especially how you made him get over me. I hate how I see your pictures online and how I'm not the one beside him, not the one he holds, and not the one with his family. It kills me to see him happy with you but I am grateful for you. I don't hate you. I am actually thankful that you replaced me.
I've caused him pain. I was selfish and I got scared of the future. I got weary and I wasn't contented with what we had. Four years down the drain, I threw it all away. Because of my fear, my selfish reasons, and just because I thought I didn't love him anymore. I thought I was over him. I gave up the plans, the future, everything because I was scared and I felt unloved.
ADVERTISEMENT - CONTINUE READING BELOW
Love him. Love him because he loves truly and deeply. I didn't see it before. He can be a jerk sometimes but he is a guy who loves more than you will ever understand. I can attest to that. He loved me and gave me what I wanted even when he was financially challenged. He tried and did everything he could to keep me happy. And I only realized that now. After 4 years of being away, after 4 years of rejecting everything about him.
ADVERTISEMENT - CONTINUE READING BELOW
He has a lot of faults. He may get lazy, he may choose his friends more often, he may be childish. But underneath all that, he is a guy that's smart, loving, persevering, and optimistic. He's an amazing, patient, God-fearing person. I don't know why I felt scared of having a future with him. I don't know why I let a good one go. I don't know why I became selfish and got tired of loving a great man.
ADVERTISEMENT - CONTINUE READING BELOW
Be patient with him. I was the only person he has been with and it was bad because of me. Teach him how to show love, because he was lost with me and I misunderstood his efforts.
Above all these regrets and notes, continue making him smile, continue making him happy and give him a chance to prove himself. I didn't give him a chance, he deserves all the happiness and the love after being with a selfish, unsatisfied and hard to please person like me.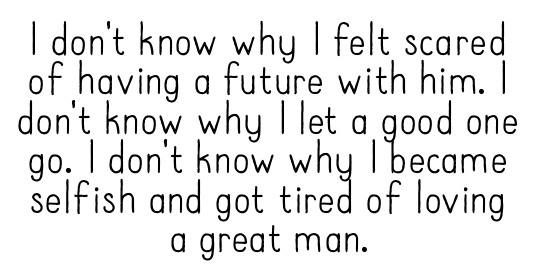 ADVERTISEMENT - CONTINUE READING BELOW
Thank you for mending his broken heart. I always wished I could be the one to fix him, but that's impossible. Thank you because you came into his life and gave him the hope and love he once had with me. Thank you because now, when I look at his pictures, his family, he is now the person that I fell in love with before.
READ: When the Time is Right
Sent in by Aj. Got your own story to tell? Drop us an email at candymagazine @gmail.com! We'd love to hear what you have to say. If you're lucky, you just might get published in this space, too! Please indicate if you want to remain anonymous. We're also looking for artwork and illustrations to use with the stories, so please send some in if you want to be featured!