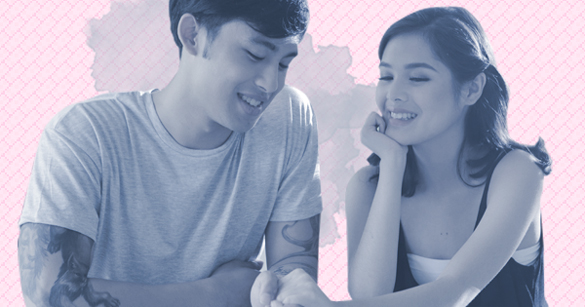 I've always heard that forever doesn't exist. That forever is just a perception of time. I will always remember us bantering about not believe in forever and true love. I will always remember you being the positive one, the persistent one.

Do you remember when we used to not believe each other? How we would jump from one conclusion to another. It was our catatonic destruction that led us to fragile situations that almost cost us our friendship, our relationship. Do you remember hearing me cry at the end of the line, wishing that you could hold me every single time I land face-first on my struggles and trials? That was probably the hardest nights of our lives. It was hard enough that we barely see each other, even harder when we barely find time for each other.
For a very long time, we both knew that what we had was bound to end soon. We were just waiting for someone to draw the last straw. But we got through it slowly. Isn't it ironic how we value someone more when we know we're about to lose them? It seemed useles, but you found hope. You held on. As I said, you were the persistent one.
ADVERTISEMENT - CONTINUE READING BELOW
ADVERTISEMENT - CONTINUE READING BELOW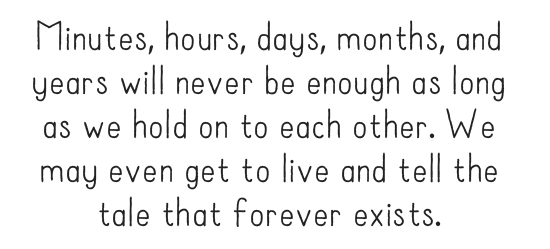 And now, we've been together longer than I have been withany of the other guys I've ever dated—any guy I've ever loved. I thought we were platonic, I thought what we valued most was the time we shared. I thought we were just being held by the fact that we've gone this long to waste all of it. But seeing how we are now, I understand why you have so much faith in us. I now see what you saw then—and still see now. I see us perfectly and irrevocably in love with each other. And if forever does not exist, I am more than willing to live however long life will give me. Minutes, hours, days, months, and years will never be enough as long as we hold on to each other. We may even get to live and tell the tale that forever exists.
ADVERTISEMENT - CONTINUE READING BELOW
READ MORE:
When You Say "I Love You"
The Different Ways You Can Say I Love You
To The One Who Almost Said I Love You
Sent in by Nicole Andrade. Got your own story to tell? Drop us an email at candymagazine @gmail.com! We'd love to hear what you have to say. If you're lucky, you just might get published in this space, too! Please indicate if you want to remain anonymous. We're also looking for artwork and illustrations to use with the stories, so please send some in if you want to be featured!