All my life I have experienced different kinds of love. There is that kind where I feel so safe and comfortable, like a familial love. Another one is a love that made me do all that's fun in the world; I got it from my friends. There's also this love when you are just sitting there with a bunch of people and wonder idly "Where has this been hiding all my life?" Then, there is a love that is you.
You. Yes, it is you. I will forever be grateful to have experienced your love. Thank you for that. You have loved me differently. A love that is so strange, I always kept finding my way out. It was all so new to me. I didn't know how to act or what to feel. One thing that's clear was I liked talking to you. I liked talking about my dreams, passion, and goals with you almost as much as when I'm sharing it with my best friend. Now, can it be labeled as love? I figured it will be unfair for you if I called it love, prematurely. So I didn't. I never did.
ADVERTISEMENT - CONTINUE READING BELOW
So to the one who I thought was never worthy, I'm sorry. If in any way I led you on, I know somehow I did, I'm sorry. Each time you talk to me, I always think that you're not worthy of my time when it should be the other way around. I am the one who is not worth your time. You saved me even when I didn't need to be saved. You loved me, made me feel more whole when I thought I didn't need anything anymore. All I did was hurt you.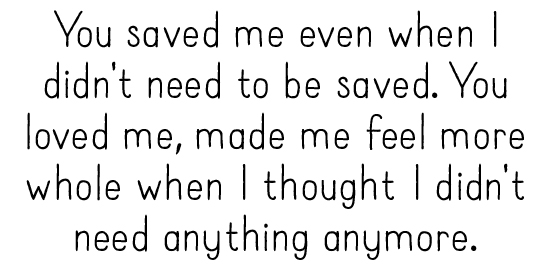 ADVERTISEMENT - CONTINUE READING BELOW
I might never find a person as amazing as you are in this lifetime. Still, I will let you go. This time because I know you're the most worthy person in this world to be loved truly. I can't give you that as of the moment. And I don't want to hold on to you, because who knows? I might be keeping you away from the girl who rightfully deserves you.
From that girl who was never really worthy
Sent in by Michaella Eso. Got your own story to tell? Drop us an email at candymagazine @gmail.com! We'd love to hear what you have to say. If you're lucky, you just might get published in this space, too! Please indicate if you want to remain anonymous. We're also looking for artwork and illustrations to use with the stories, so please send some in if you want to be featured!
ADVERTISEMENT - CONTINUE READING BELOW