I hoped, wished, and prayed for you. I hoped that you'd feel the same way. I wished we could have ended up with each other. And I prayed that you'd stay. My feelings are constant, they never changed. Maybe they did but they just grew stronger as days turned to weeks, weeks turned to months and months turned into a year.
We talked. We communicated. We saw each other every day. I was there for you. I was your cheerleader, your fangirl, and your supporter. You were there for me to listen to me complain about how sick I was with school. You were there for asking me why I go home from school late. You were there to hear me rant, talk about silly stuff, and ask me about my schedule in school. You were there to motivate me to jump out of bed early even if I slept late because I was up late studying. You were there to inspire me to be a better person by simply being there for me.
You were there but why did you go? What did I do? Were my efforts not enough? Was there something that I did wrong? Because if there really is, I'll make it up to you. Why did you choose to let go? Why did you go away and leave me? I tried to reach out a lot of times but you keep on ignoring me, rejecting me. And you kept on shattering me into pieces without you knowing.
ADVERTISEMENT - CONTINUE READING BELOW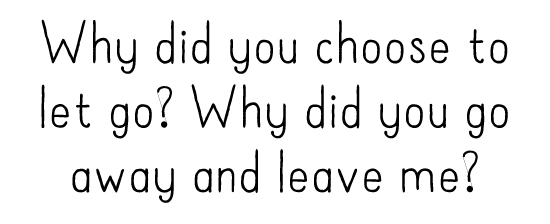 I understand that you have priorities too but I can't understand why you left me hanging. It was like I was in the dark with both eyes closed trying to find a missing piece to complete a puzzle. It was just me, alone, looking for something to make me feel complete again. There were no explanations; you went away without saying a word. Maybe those days, those moments that have now turned into memories meannothing to you at all. Maybe, those days that I consider as the best days of my life were just days for you. Nothing but days.
I want to demand more time having you within my reach. I still want to be there for you, to listen to every thing that you have to say. I want to be the only girl that you'll send random messages to. I still want to show you how much I love you, how much I care for you, and how much I want to keep you. I want to turn back time. I want to have you again. I want us again. I want to be your endgame. I don't want to be just a phase but a lifetime decision. But I guess this lifetime or the next ten lifetimes won't let me have what I want. Maybe fate doesn't want me to end up with you.
You're a gamer and I was your game to play. Just like any other game that you played before, you won. I wasn't a trophy but leaving me without a word must have been some boost to your ego, right? Months passed, you were there again sending me "good luck" texts for my exams and asking me how I was doing with school. The feeling was still there, I admit. It felt right to text you back, to care again, to open my heart and love you more and more again but I still ended up being left. Maybe because I hoped so much that you'd feel the same way, I ended up misinterpreting your actions. Maybe because I wished we'd end up with each other, I assumed too much that you too had feelings for me. And maybe because I prayed that you'd stay, I expected you to.
It's already been a year since I started crushing on you. It all started when you settled in the chair beside me in last year's English class. And now I want you out of my system. Loving you, it's not all about pain. It taught me to be a better person, the person that I am today. Without you knowing it, I studied harder for you, for me, for my own future. Loving you wasn't a bad idea at all. Instead, it made me look at life at a new perspective, a better perspective.
Maybe, I'm not right for you and surely, you're not right for me. Maybe at the very beginning, we just met to teach each other a lesson. A lesson that will serve as our guide as we wait for the right one to come. Maybe I'll be thankful to you for letting me go someday. Maybe one day, I'll know why I'm not your endgame and I'll understand how I ended up being just a phase in your life. And maybe when the time comes, I'll know why I wasn't good enough to be your lifetime decision.
ADVERTISEMENT - CONTINUE READING BELOW
I've accepted everything now. That no matter how I try to be worthy of you, I would still not be the girl you want. No matter how hard I try to be better, it doesn't mean you'll love me back. No matter how I want you to need me, I wouldn't be enough for you. Every little detail of the memories I have of us together will always have a special space in my heart. I guess moving on is the only thing left for me. Moving on with my life without you, without the idea of us, without every thing that will remind me of you, and without depending my happiness on you. Lastly, just moving on and understanding that life goes on. The world still goes round, and time passes by, and all of those other things shall go on with its purpose. And so will I but this time, without you.
Sent in by Ashley Quiroben. Got your own story to tell? Drop us an email at candymagazine @gmail.com! We'd love to hear what you have to say. If you're lucky, you just might get published in this space, too! Please indicate if you want to remain anonymous. We're also looking for artwork and illustrations to use with the stories, so please send some in if you want to be featured!