See, a person has different emotions. Some days, they're happy; some days, they're sad; some days, they're angry; and some days they're just plain confused. I am a mixture of emotions every single day that even I confuse myself yet you... Oh, you.
You came in like a train wreck: Fast, unnerving, dangerous. I began noticing you in the halls and suddenly found it cute how you smiled. I began thinking more about you and how I would get you to notice me and one day I had our chat box open, ready to send out a single line, "Hi!" But fear took over and I changed my mind when suddenly you sent your own version of hi. "Hello," you said.
We began talking and talking and talking and it seemed that every single minute of the day I was waiting for your reply and you were waiting for mine. Suddenly you told me you have my number and you told me to wait for your text. We moved on from Facebook chat to texting, and at night you sent me a good night text and before I could even wake up you'd already sent me a good morning text.
It was obvious. I liked you. You liked me. Yet I am a complex person. A person who loves romance and writes novels and poems about love and its complexities, but doesn't know a single thing about love. Granted I give advice out like I knew everything in the world but listen, I am naive and I am not prepared.
ADVERTISEMENT - CONTINUE READING BELOW
So when you asked me if you could court me, I refused.
We stopped talking. You had my attention, still, and I had yours. Because whenever we'd pass by each other in the hallway, I'd catch you looking and I knew. You'd catch me looking as well. Days passed by and I still knew with all my heart that I liked you. I wanted another chance.
And you gave me one.
But weeks later, we gave up.
To the one I want to love, but couldn't—not because of someone from the past. It's because I couldn't love you with all my heart, and you deserve so much more than what I could offer.
Thank you for making me feel like I was worth something. For taking me back when everything else seemed wrong because all the walls shook and I felt terrified again. Thank you for smiling at me when I pass by the halls. Thank you for being the one person in the entire world that I want to love yet I can't.
I'm sorry if I seemed to lead you on. I'm sorry if it seemed as if you weren't an option in my life. You were. You are. You're so special. You are an important person in my life and if you called me at 3 in the morning, I would answer the call.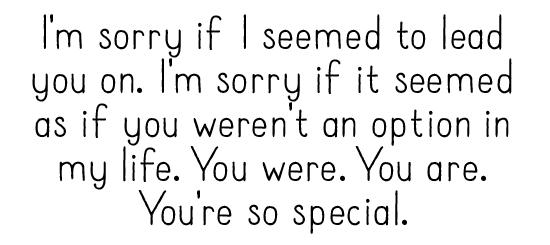 I hope one day you'll find someone that would love you so much more than to the moon and back, but that person isn't me. I hope that person is beautiful, kind, smart, funny, great—everything you deserve—because one day you'll be holding her entire world and she'll be holding yours.
I've written 57 letters, short ones, hidden in a tiny jar sitting on my bookshelf. Letters for you. For the one I want to love.
Sent in Frey Harris. Got your own story to tell? Drop us an email at candymagazine @gmail.com! We'd love to hear what you have to say. If you're lucky, you just might get published in this space, too! Please indicate if you want to remain anonymous. We're also looking for artwork and illustrations to use with the stories, so please send some in if you want to be featured!