Destiny, a predetermined course of events, unexpected encounter of two people who may fall in love or may fall out of love. Either both of you are meant to love each other or you are meant not to stay with each other for long, and we belong to the latter.
We used to be casual friends. I knew you back then somehow not that close though but knew you as somebody who everybody trusted and loved. You were the "good boy" and the "kuya" of the group. I admired you back then; I secretly looked at you. I had that feeling before you felt the same way, too. There was a spark, an attraction I couldn't explain but I chose not to entertain it, and you did just the same.
We parted ways and we forgot. We were busy with our separate lives. We did get into deeper relationships. We hoped, we trusted, and we lost the person we care for and love so much. Then one day, we came across each other unexpectedly, this funny word called "destiny." Who would have thought after so many years? I caught myself singing Up Dharma Down's song, "Tadhana." We talked and shared so many things about ourselves and discovered so many things in common.
ADVERTISEMENT - CONTINUE READING BELOW
The feeling when you've got that someone who gives you back the hopes and dreams once shattered and broken. The feeling when you've believed that true love exists. The feeling when you get so excited each and every day because you know somebody thinks and misses you. The feeling when you expect and plan of a weekend trip, places to go, and people to meet. The feeling when you have something to look forward to, a friend, a lover, a husband, a mate for life.
Falling in love is such a wonderful feeling, isn't it? It was happening to me and then you left. You didn't even want to convince yourself to love me or convince me to love you, so you chose to avoid me. I thought it would turn out good easily, I thought things would unfold as I expect them to be. I thought you were the person destined for me, but I was wrong.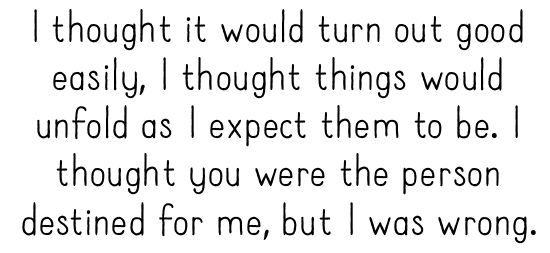 READ MORE:
To the One Who Already Left, I'm Leaving You Still
To the One Who Doesn't Realize They're The One
To the One Who Left Me
Sent in by anonymously. Got your own story to tell? Drop us an email at candymagazine @gmail.com! We'd love to hear what you have to say. If you're lucky, you just might get published in this space, too! Please indicate if you want to remain anonymous. We're also looking for artwork and illustrations to use with the stories, so please send some in if you want to be featured!
ADVERTISEMENT - CONTINUE READING BELOW