Ed Sheeran said "People fall in love in mysterious ways, maybe it's all part of the plan." Indeed, I fell in love with you in the most mysterious and unpredictable way. In a way that you became a part of my daily life, that a day would not be complete without you. Because you make me feel less pain and more special. In a way that I easily get attached to you despite of all the pains and heart breaks that I just recently experienced.
But unfortunately, I've only come to realize these things when your love for me started to fade away. You just stopped sending me messages right when I started to need them. You just lost your affection when I started to believe in it.
READ: To My First Love
You were not my type at first. You were a very good, humble, and most shy type of a man I've ever met. You were the contrast of everything I was looking for in a man.You didn't spend much of your quality time with me. I didn't think you were capable of making me fall for you because you didn't show me how much you really did.
ADVERTISEMENT - CONTINUE READING BELOW
I've always had standards. I don't know why I fell for someone like you. I didn't know a simple daily text message could attract me to someone I barely knew—someone who doesn't talk to me personally, someone who doesn't know me, someone who couldn't even look straight into my eyes.
Our story happened in a definite number of days. It started with a simple celebration, with a simple look, with a simple smile, and a simple hello. You added me on social media because you said you wanted to be friends with me. You chatted with me days and nights until it became a routine.
READ: He Fell Out of Love
You fell in love with me at my worst, at a time when the pain from the recent heartbreak was still fresh in my mind. You fell in love with me when I was bitter over life. You weren't that good-looking but you had a great personality. You still believed in love inspite of all the negativity in the world. You were able to freely give love to others because you'd been receiving it regularly from your family.
You made me feel loved and special at a time when I was feeling all alone.You made me see the value and worth still left in me when I broke myself. Despite of my cold approach and response, despite of all adversity and frigidness that I gave you, you still made me feel wanted.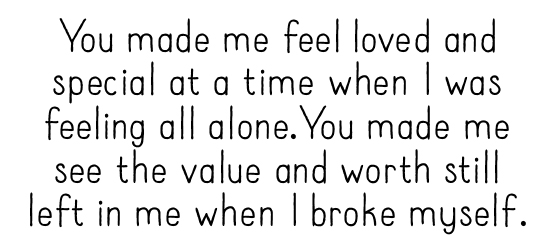 ADVERTISEMENT - CONTINUE READING BELOW
Your patience and perseverance attracted me to you. I never expected this to happen. I tried to hide my feelings but it always shows. I tried to deny it but it always grows. I never expected that a simple guy like you can make me fall in love again that quickly. I realized that you are the kind of love that I want to experience days and nights. You are the opportunity that I never want to turn down.
That's why I started to rebuild myself, tried to forget my bitterness, loved myself, and shared it with you. Because I believe that you deserve the best. But suddenly, things have changed.
You just... changed. You became so cold and tired. Tired of waiting for me. And I just... lost you. I just lost the person who made me experience the magic in the simplicity of love. And that was the worst feeling ever. When you fall in love for the person who makes you feel so special, then they suddenly leave you hanging, and you don't have a choice but to act like it's okay.
ADVERTISEMENT - CONTINUE READING BELOW
Well I guess it's all my fault, because it's too late for me to fully accept that I really love you. I just lost the chance to show you how much I love you for the fear of hurting you the way I was hurt. You are the kind of love that I never had, but I lost. Some stories begin with a simple hello and lasts for a lifetime. Ours happened in a short period of time and ended in a sharp edge. We ended up like strangers. We fell in love in mysterious way within a number of days. And I believe it's all part of the plan.
To the one I never had, but I lost.
Sent in by Emenji Luna. Got your own story to tell? Drop us an email at candymagazine @gmail.com! We'd love to hear what you have to say. If you're lucky, you just might get published in this space, too! Please indicate if you want to remain anonymous. We're also looking for artwork and illustrations to use with the stories, so please send some in if you want to be featured!
ADVERTISEMENT - CONTINUE READING BELOW