I can still remember that rainy night when I first met you. You were waiting outside the bar beside my friend and your other bandmates. As I entered the door, you smiled at me but we never had the chance to talk that night. I never thought that the man who waited for me so they can start playing is the same man who waited to be my first love.
I thought that was the last time that I would see you but after a month, we had a chance to be together in a gig. Everything happened so fast. That same day, we went on a date. We watched a movie together and we went all the way to Tagaytay just to eat bulalo. And that's how it all started.
I knew from the start that you're a missionary and soon, you would have to leave. My mind was telling me that I should stop dating you but still, I listened to my heart. There were so many moments with you that I'll never forget. The day when you traveled 2 hours just to meet my parents and to ask them if I could go with you to meet some of your friends and you even promised my dad that you will bring me back home. Those moments when I felt like giving up with my dreams but you became my number one cheerleader. Those times when you sacrificed your sleep just to spend time with me. That moment when we were on the rooftop while looking at the city lights. You sang "Grow Old with You" then you told me that you really want to marry me. Everything seemed so perfect but there was this one thing that ended everything: It's not yet God's perfect time.
ADVERTISEMENT - CONTINUE READING BELOW
You were the first man who said "I love you" to me and you're the first man that I said "I love you" to. I never felt this way before and I know I'll never get the chance to love this way again. A month from now, you'll be leaving to follow God's plan for you. No, I will never stop you! I want you to do what you need to do and even though it hurts so much, I will let you go so you can do your mission.
I know and I am sure that we are so in love with each other but we both love God more than anything else that's why we have to forget this romantic love so many people will experience the fullness of God's love. Despite all the things that happened to us, I don't regret anything. It was a short but a beautiful love story. Quoting my favorite movie, "You gave me forever within the numbered days". I still hope that someday, we'll still find our way back into each other's arms but if it's not according to God's will, you will still be one of the most beautiful things that ever happened to me.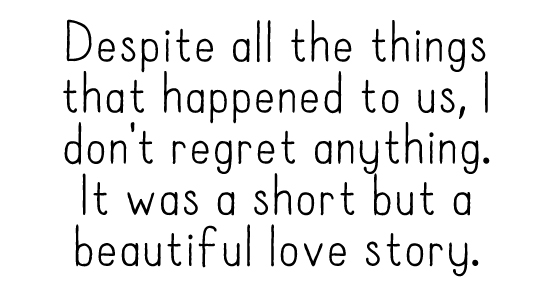 For the last time, I want you to know that I love you to the point that it hurts so much that's why I am now letting go of your hand. I don't know if I'll ever get the chance to see you again but I'll put everything into God's hands, if it's His will and it's His perfect time, our hearts will meet again.
Sent in Aim Matawaran. Got your own story to tell? Drop us an email at candymagazine @gmail.com! We'd love to hear what you have to say. If you're lucky, you just might get published in this space, too! Please indicate if you want to remain anonymous. We're also looking for artwork and illustrations to use with the stories, so please send some in if you want to be featured!