You are a wonderful memory. A memory that I would never ever want to forget. What's the point of writing about it, anyway?
I don't think I could ever get over the person who was the first to ignite the flames inside my heart. You. Yes, you, beautiful brown eyes.
It was my first time to fall for someone. It was special. The kind of special that if someone were to ask me right now who my first love was in a slam book, I would gladly write your full name, in capital letters, complete with your second name and middle initial—and even end it with a little heart.
You were so special that even if you didn't bother catching me when I fell for you, you still have a special place inside this tiny heart.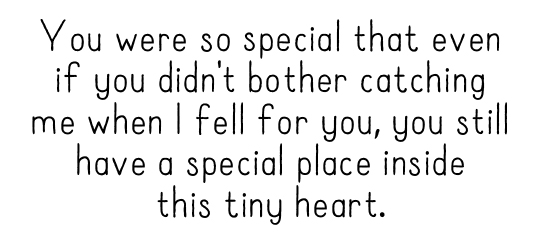 This will sound funny, but wouldn't it be nice to be able to talk to the person who actually made you feel things for the first time?
ADVERTISEMENT - CONTINUE READING BELOW
I'd love to go back to the times when we'd sit next to each other in Spanish class and pray so hard not to be called for recitation. I'd whisper the answers to you but our Señora would be too quick to call the next victim so you'd be standing up until the whole class has recited. Or to the times when we'd go to the mall, along with our other friends, and we'd just sing karaoke songs all afternoon or up until we don't have any change left in our pockets. You'd always pick that Paul McCartney song, "Ebony and Ivory." Such an old soul, you are.
I'd love to go back to the times when we'd stay up late, chatting through Y!M, stressing about our Photography class and how we still lack photographs to print for our portfolios, which were due the next morning. Or to the times when you'd ask me if you looked silly in your profile picture and I'd say you looked funny—and you'd argue, time and time again, that hippie bands can be worn by guys, too.
The little, quintessential moments are the ones that I will never forget. These were the good times I shared with you. We had bad moments, too, but I'd rather keep them to myself.
I'm not waiting for you to come back or for you to realize how much of a jerk you were back then. That would be wrong and unfair to my current love. Besides, I wouldn't want you back, anyway—not anymore. Not this time. Not ever.
I had love for you because we were friends—but now I'm not sure if I loved you truly, or romantically, that is. Maybe it was just infatuation back then? But now that I'm thinking about it, isn't two years such a long time for such a feeling?
Who knows? I might have, I might have not—but contrary to popular belief, first love can die. Maybe not in a way that's so sudden, but as time passes. Not right away, but eventually.
First love can stay, but it can fade, too.
When a photographer fails to safely keep his photographs in an album, they can fade.
If it isn't obvious yet, the memories I have for you are still vivid but they're slowly fading away. And it's such a relief because now that they are, I can breathe the same air as yours and not feel like I'm drowning in cold water.
Love fades when it's not nurtured, when it's not given time and attention.
And as I put this letter to a close, I'd like to remind myself of one thing: Love is not always reciprocated the way we want it to. No matter how hard we try, that's just the way it is.
Sent in by Dominique Gonzaga. Got your own story to tell? Drop us an email at candymagazine @gmail.com! We'd love to hear what you have to say. If you're lucky, you just might get published in this space, too! Please indicate if you want to remain anonymous. We're also looking for artwork and illustrations to use with the stories, so please send some in if you want to be featured!
ADVERTISEMENT - CONTINUE READING BELOW