I guess it's true, that someone will just come into your life and change it constantly. Years ago, I met you and I didn't expect things to happen like it did. I didn't expect that you'll be the one who will change my life in so many ways. But we were both so young, I didn't know if being committed to each other was right. But after some time, we stopped thinking, we stopped worrying, and we let ourselves fall. We let ourselves be too attached with one another. And doubts became less too for we felt nothing but true happiness. I could feel butterflies fluttering in my stomach. And suddenly we started to become more intimate with each other. We started to crave each other's touch and attention. We started kissing, hugging, and even cuddling. Our focus got diverted and our world seemed revolve around each another.
We started to be very serious about what we have. We started talking about our future like we were so sure of it, like we were sure of what would happen. You pictured your future with me, and I did the same thing. We spoke like we were certain of what will happen in the future, that it will be the two of us, together in the end. But that's not the reality of life. We are not certain of what will happen in the future and we can't control it. There would be a lot of circumstances we'd have to face.
ADVERTISEMENT - CONTINUE READING BELOW
And it happened to us. After two years of being together, a lot of things happened, and a lot of things changed in both of us. Suddenly the butterflies were gone, and our fairy tale-like story seemed to be on its last chapter. We broke up and we went our separate ways. During that time, I was truly in despair, feeling so empty and so lost. It was really baffling for me, the reason why you had to leave me. It took me months before I was able to accept the reality that we're not like what we used to be, and that all our future plans are plans that we'd have to fulfill on our own.
It's been more than a year after the breakup and you're in a new relationship now. And I can see how happier you are with her now. While I am on my own too, but not with anyone else. Because if there's something I learned, it's to wait for the right time and the right age. Because being mature is truly the key for a relationship to last.
Sometimes, I wish I had met you when I'm the right age, when I can handle serious problems unlike before. But I guess that's just how it goes. You may meet someone who would change your life, but that someone may leave you—maybe with or without a valid reason.
There would be times that I feel like I regret everything. I regret giving my all and giving too much. But then I realized, there is nothing to regret. What we had was an overview of what can happen in the future. Maybe there will be more heartaches, more cracks in love, and more messes. I may be a princess in the next fairytale or I may be an emotional wreck, but I know it's all part of the process.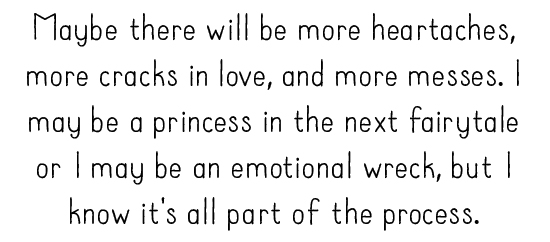 Now is the time to let go of all that hatred, torment, and distress. You can be better with or even without him. You control your own life and you have your own chapter to fulfill. You shouldn't let anyone be source of your happiness. Because, you are the key and you are enough.
Sent in by Krystka. Got your own story to tell? Drop us an email at candymagazine @gmail.com! We'd love to hear what you have to say. If you're lucky, you just might get published in this space, too! Please indicate if you want to remain anonymous. We're also looking for artwork and illustrations to use with the stories, so please send some in if you want to be featured!