Just when I thought everything was real. Just when I thought that everything you showed me meant something. You made me believe that an "us" could be possible, but you ended up breaking my heart instead.
I knew from the start that everything was just a game, and I knew that I was bound to lose. Because even before the game started, I already fell for you. People were telling me you were a bad idea, and that I shouldn't fall for you. I didn't listen to them, because I thought you were different. I thought that you would prove them wrong... But you didn't.
We would chat every night back then, and I admired how you loved anime so much. I admired how much you loved to focus on your studies. I admired how you comforted me in my own struggles. Most of all, I admired how you helped me to become a better person without knowing it. I admired that about you. You weren't a perfect guy. You were a guy full of pride. I never knew the reason behind, but it didn't matter. You had your own share of flaws and imperfections. You were always making fun of me, because that's who you are. It didn't matter to me who you really were, because who you are made me love you even more.
You showed me signs that made me think that you'd possibly fall for me. Some people say that you really did. I believed that, because that's what I felt, too. But I was wrong. You never did. And now, I'm stuck to where you left me. You left me hanging, and I don't know how to let go. How can I move on from someone I can see every day from across the classroom? How can I move on from the first guy who actually made me feel that I meant something to him when I really didn't? How can I move on from the guy who made me believe?
ADVERTISEMENT - CONTINUE READING BELOW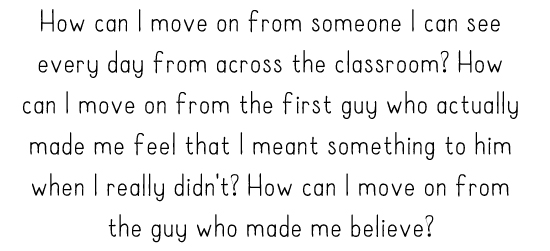 Someday, you'll realize that you've let go of a girl who would never have given up on you. And by that time, I'm nowhere to be found. I'd have lost myself, when I found you. You helped me find myself, but you were also the one who got me lost again. Someday, I'm going to find myself, and remember the guy who made me believe. How he helped me to be a better person, even when he chose to break me. Soon, in God's time, I would be with another guy who will also make me believe. But soon, it's going to be something real. No lies, no regrets.
Sent in by Glayzell Altrinna Bulang. Got your own story to tell? Drop us an email at candymagazine @gmail.com! We'd love to hear what you have to say. If you're lucky, you just might get published in this space, too! Please indicate if you want to remain anonymous. We're also looking for artwork and illustrations to use with the stories, so please send some in if you want to be featured!