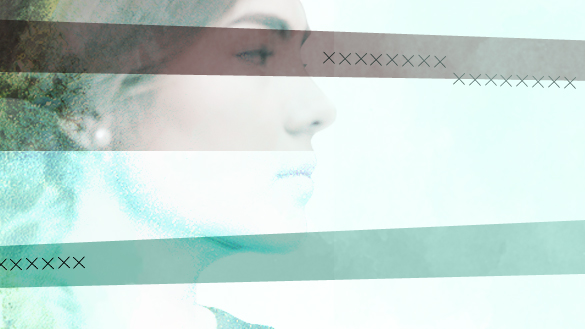 I still remember that trick you used to do just to get my attention: showing up with a frown on your face and telling my friends about me never noticing you. Until one day they just told me you liked me and you had no choice but to confess. Of course I told you the feeling was mutual because it was. It's the truth.
And so it went on, yes. But sad to say that it went on online. I never really understood why you were too afraid to come to me personally and talk about the casual things but I didn't make it a big deal at all. And so days and months passed, countless hindrances and obstacles came our way but we were like Titanium—almost nothing could break us.
It was late in January, two years ago, when our online communication just disappeared. I was thinking it was something normal and nothing's wrong at all so I waited for days, for weeks, for months until you'd finally send me a "hi" again. But you never did until summer took over. It was like a stab in the heart when I had to learn the bitter truth from a mutual friend.
ADVERTISEMENT - CONTINUE READING BELOW
ADVERTISEMENT - CONTINUE READING BELOW
You told her you were tired of me.
I literally could not breathe for a second with what I just knew. I was saddened, dumbfounded, heartbroken. It took me quite a while to recover but at least I did, right? The thought ran round and round my head for who knows how long. But that wasn't the worst part because the worst part was that you liked a close friend of mine.
I wanted to ask, "How dare you?" but I didn't because it wasn't your fault you felt that way. After all the unbearable pain, I still understood you and even asked if we could still be the best friends we once were before all of this even happened. Nagpaka-warrior pa ko kasi I still had the guts to tell you that I would help you win her so you wouldn't be so devastated anymore. Though it was impossible to handle, crying while typing things about this girl, I myself couldn't even believe I was brave enough to do that.
ADVERTISEMENT - CONTINUE READING BELOW
Unfortunately for you, things didn't go your way because she had her own significant other. After months, you suddenly noticed me again and said that you were able to reflect and came up with a conclusion regarding your messed up feelings. You said that I was really the one. And you wanted me to give you a second chance. I was hesitant because a part of me didn't want to hand you back my trust but what I followed was the typical, stupid me. I told you I would if you would prove to me that you were worth another shot by avoiding expressing yourself to me through chat and by talking to me personally.
You did. But I noticed that you only come up to me when I wasn't in the mood and ask me if I was okay. I confronted you about this and how it was bothering me but what came next was unexpected. You walked away and ignored me for about a day or two. I felt really bad for making you feel bad so in the end, I was still the one who was sorry. It's unfair that after all this time I'm still the one chasing you even though you were the one who needs to be sorry for what you've done to me.
ADVERTISEMENT - CONTINUE READING BELOW

It's irritating how I love listening to The Script but they just remind me of you because they were your favorite band. It's frustrating how "I Swear This Time I Mean It" is the only song that could make me fall asleep because you used sing it to me whenever I can't. It's disturbing how I always think that the people who can play the piano are nothing compared to you. And it's heartbreaking how, two long years later, I still can't move on. But believe me, I'm trying.
ADVERTISEMENT - CONTINUE READING BELOW
Sent in anonymously. Got your own story to tell? Drop us an email at candymagazine @gmail.com! We'd love to hear what you have to say. If you're lucky, you just might get published in this space, too! Please indicate if you want to remain anonymous.