The memory of her leaving still remain fresh in my mind. How she was so excited yet in fear of saying goodbye, of facing a new chapter of her life, of setting foot on another land. She was leaving for college somewhere far away where nobody knows of her existence. I, on the other hand, could not help but worry. Is she going to be okay? Is her dorm safe? Are her new friends nice? Such questions clouded up my mind. But she's a very strong person, I thought to myself. I knew that she could withstand all the struggles she would face and find the people she could trust.
As I was also busy because of college, we could not keep up with each other. She was busy with her Science, I was busy with my Math. Not until one afternoon. While I was waiting to be interviewed for my application to a student organization, she called. We talked and talked and I heard stories about her classes, professors, the university, her new dorm, her new friends, and then, there's you.
ADVERTISEMENT - CONTINUE READING BELOW
I remember the first time she talked about you. How you two became study buddies and how you took care of her one time when she was on her period. She happily told me how you came to visit her that day with a pack of porridge in your hand and pads in the other. Every story was filled with joy and sweetness. And I, honestly felt relieved and not to mention kilig upon hearing those stories for I thought that she, my best friend had already found someone she could trust, someone who could take care of her while she's there without me, without her family. She found someone who could love her again.
With each passing day, I kept on hearing more stories about you. Yes, you, the guy she thought she was already falling for, the guy who she thought was already falling for her. I felt less worried for I thought she was safe in your arms, that you would protect her, that you would love her. But I was wrong. I really thought it was all going well until she came to me and said "He has a girlfriend back home. He was lying to me. He's cheating on his girlfriend with me." That shocked me. It broke her heart into a thousand pieces. It left her crying, sobbing in pain. But what did you do? Did you say sorry or even felt a bit of sorry? No, you never did.
ADVERTISEMENT - CONTINUE READING BELOW
Do you still remember that time you argued with her? That time you did nothing but shout blaming her for everything that has happened. You heard not a single word from her, instead, you watched her collapsed in front of you. She woke up feeling weak and tired. The doctor asked what had been causing her stress lately. Nobody spoke. But everyone, including you, knew that it was you all along. It was you who made her weak. It was you who broke her heart.
Not long after that, your girlfriend made a fuss with her on Twitter saying that she should stay away from you for you are already taken, that you have a girlfriend. Little did that girl know that you were the one who flirted with her in the first place. My best friend kept on warning you about your girl. It was really obvious how bothered she was about the situation but you would not listen. Instead, you tried and tried to get her back. You really thought my best friend was that stupid to get back with someone like you? I don't think so, mister.
ADVERTISEMENT - CONTINUE READING BELOW
After a whole semester of stressing about you and your nosy girlfriend, she finally decided to leave and to transfer to my uni. One reason would probably be to avoid you and, well, to try and fix her broken heart. But the distance did not really help, did it? Of course, the magic of modern communication, you still called her trying to convince her that you really love her and that she should come back to whatever it is you two had. You couldn't leave her in peace. You still continued to break her even being miles away from her.
A year later, she has completely gotten over you. She's now happy. She has already mended her broken heart but still, thanks to you, she became afraid of falling back into love. But I can say that she's back. My best friend is back. She's now surrounded with lovely people and the kuyas she's made in their college. I've met them. They're good people, protective of her and love her truly. Far from the monster she has met that was you.
ADVERTISEMENT - CONTINUE READING BELOW
Yes, she has already moved on, but have you? She spent so much time trying to fix herself. She even learned to drink alcohol because of it. But here you are, a year later, still begging for her to come back. I heard that your girlfriend broke up with you when she finally learned about everything. Well, I'm sorry to hear that but even though this may sound mean, I think you deserve getting dumped. No girl deserves to be with a fat liar like you, a desperate jerk. Especially not my best friend. She deserves someone far better than you.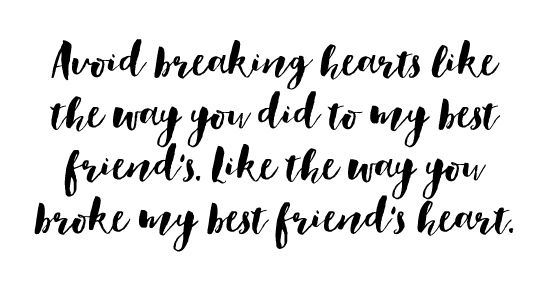 ADVERTISEMENT - CONTINUE READING BELOW
Please, she's already healed. She's already tired of your desperate actions. We both are. I think it's time for you to let go and mend yourself, too. If you're doing all these things out of pride then take a few steps back and remember that no matter how stupid our mistakes may be, we should accept it for only through acceptance would we be relieved and be able continue a better path. There are plenty of other girls out there. And, if love is what you want, then learn how to love like a true man should. Don't cheat but be contented. That way you will remain faithful and hopefully, avoid breaking hearts like the way you did to my best friend's. Like the way you broke my best friend's heart.
Elle is 17, an Envergan, reader, writer, and bestfriend. Got your own story to tell? Drop us an email at candymagazine @gmail.com! We'd love to hear what you have to say. If you're lucky, you just might get published in this space, too! Please indicate if you want to remain anonymous. We're also looking for artwork and illustrations to use with the stories, so please send some in if you want to be featured!
ADVERTISEMENT - CONTINUE READING BELOW