I never thought I'd ever see you now the way I didn't see you before.
You, to me, were the Harry Potter to my Hermione Granger. I was pretty convinced that I'd never see you as someone who was anything more than a friend. Our relationship was purely platonic. You had always been more like a brother to me. We'd fight over petty things like siblings do: you'd pull my hair every time you get annoyed at my teasing, I'd end up seething inside while trying to maintain a stoic expression every time I couldn't come up with a comeback at your snide remarks, we hurl hurtful words to each other and forget it like nothing has happened the next day.
But oh, how I hated you when you were being your usual mean self back then! You always made me feel incompetent. Your presence inside the classroom was too imposing (admit it, you really made sure it was). You had the whole class wrapped around your fingers and cater to your every whim. And because at times I refused to concede and you see me as a competition, you made sure I would never feel comfortable. I was the constant target of your bullying spree.
But then, as much as I would like to deny it, childhood would never have been as fun without you. Yes, I was the Jerry to your Tom. But you were also an Olaf to my Anna. On those few and far between moments when a halo would show up over your head instead of two little red horns, you were a helping hand. You may have been a bully, but you were also a jester. You made me feel it was okay to laugh at my mistakes (though most of the time you really liked to rub it in a little more just to annoy me). I would never have slowly gotten over my fear of heights had it not been for your patient effort in coaxing and encouraging me to go up a hotel's rooftop a couple years back. For that, and for a number of other things (like mouthing the answer to a math problem) I'm grateful.
ADVERTISEMENT - CONTINUE READING BELOW
It wasn't until recently, though, that I had been feeling something odd towards you. I refused to recognize it at first. And then I found you invading my dreams. I took it as a sign that perhaps, I am missing your presence since it's been years since we last saw each other and to date, this is the longest we've been apart since our childhood years.
But then, you managed to crawl your way into my subconscious every time I have nothing worthwhile to do. I have a number of close friends but I don't think of them as often as think of you. How weird can it get! I couldn't just shrug it off, could I?
Now that I think about it, the possibility of me falling for you scares me. Not because I friendzoned you before. But because maybe I've been feeling something special for you since then, and I just didn't admit it to myself until now.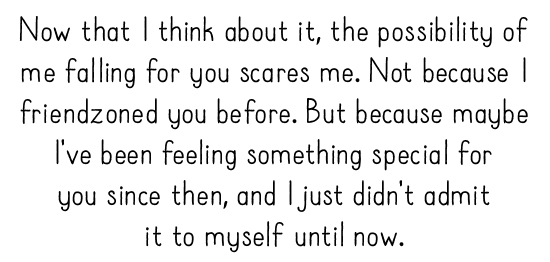 No way! Or maybe... all of this is just but a product of my overindulgence in watching romantic comedy flicks and binge-reading cheesy YA novels that make me feel giddy. Maybe I'm just feeling lonely. Maybe I'm just curious of what it feels like to have a boyfriend. Maybe it's because, all of a sudden, you had fit my standards.
But why did you suddenly become the person I measure every guy against? Why am I thinking of you more often than I should? Why do I daydream about you? Why do I get butterflies in my stomach at the thought of you?
I've been in a state of internal confusion because of you and you don't even know it. You don't need to know it. We may have been separated by distance, but there are still core circles we both run in. I don't want anything to be awkward between us just because I suddenly woke up having unusual feelings towards you.
You've got me questioning myself. And boy, these questions grow more and more both in number and depth with each passing day. The answers are elusive, and part of me doesn't want to figure it all out just yet. Maybe because I'm afraid to realize that I know the answer all along.
One thing's for sure. I'm starting to see you now the way I didn't see you then.
Sent in anonymously. Got your own story to tell? Drop us an email at candymagazine @gmail.com! We'd love to hear what you have to say. If you're lucky, you just might get published in this space, too! Please indicate if you want to remain anonymous. We're also looking for artwork and illustrations to use with the stories, so please send some in if you want to be featured!
ADVERTISEMENT - CONTINUE READING BELOW