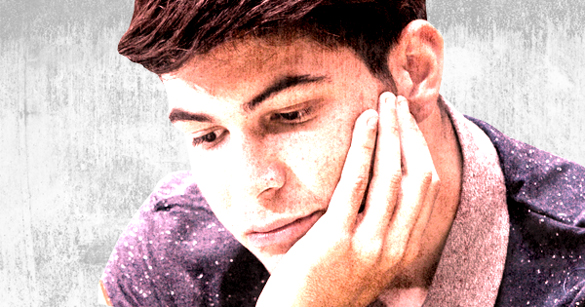 It's been a while since we last spoke, and a lot longer since we last saw each other. A lot has changed from the time when we were fighting in the hallways, and I was pushing you away hoping and praying deep inside that you'll just grab on to me and never let go because that was our promise remember? To hug a little tighter whenever things got hard. But you didn't that time. You walked away. You, who I thought would never leave, left me that day. Somehow deep inside I knew that this day would come and you would finally give up on me, on us. Yes, a lot has changed since then.
READ: You Will Break My Heart
I really don't know when or how but somewhere in the midst of everything, you fell out. You fell out of love with me and I knew it. I knew it three months before you said goodbye. I knew it even before I begged you to stay. I knew it then when I saw the light beginning to dim in your eyes, when the fireworks between us slowly turned into a match that's burning out. I knew it so much more when our I love yous became more of a routine than heartfelt. I knew, I just knew you didn't love me anymore.
ADVERTISEMENT - CONTINUE READING BELOW
But a lot has changed since then. The hair I cut short is now growing longer. The smiles I have are now getting brighter. And my heart? My heart is still broken and bruised, but it is getting better. It is getting better everyday because you know what? I now understand. You and I were doomed to be torn apart from the very beginning. You were the perfect piece, but I am not the puzzle you were meant to complete. You were the sun, I am the moon, and we're destined to shine brightly without each other.
Nevertheless, you were the best I ever had, and by a long shot, no one could ever compare to the happiness I felt each and every minute when you were mine. For that, i will forever be grateful. I just pray that I made even a tenth of an impact in your life to what you've made in mine.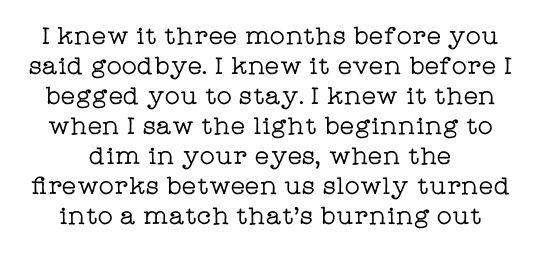 P.S. I know you'll never read this, but just know, that you'll forever have a place in my heart. You will always be my bestest friend, my favorite hello and my hardest goodbye.
READ: I Wasn't Enough For You
Sent in by Shanny Sy. Got your own story to tell? Drop us an email at candymagazine @gmail.com! We'd love to hear what you have to say. If you're lucky, you just might get published in this space, too! Please indicate if you want to remain anonymous. We're also looking for artwork and illustrations to use with the stories, so please send some in if you want to be featured!
ADVERTISEMENT - CONTINUE READING BELOW