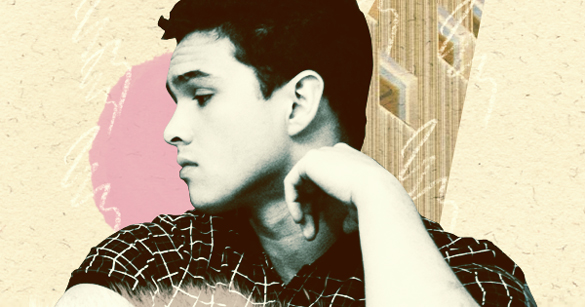 How do you really move on?
People would usually say that in order to move on, you should forget everything about him, stop stalking him, and just go on with life. It's easy to say those things but when you're the one who's in that situation, you'd really just want to disappear.
I have been with you for a very long time. We shared everything together and I never imagined continuing my future without you. We achieved goals together, we dreamt together. We were just inseparable.
All my life I've been played with, and you don't know how scared I was when I met you. I wasn't sure if it would turn out okay, or would it fail like everything did. But then, I took a risk. I fell in love, we fell in love. Then I realized, I'm sure. I'm sure about you, about us. Things got complicated, but I always remind myself "No, this is worth it." I always thought you were worth it, and that in the end, we'll fix whatever is broken in our relationship.
After so many years, I decided to end it. I wasn't sure if it's the right thing to do, or if I'd be able to commit to my decision. But I knew that when I told you my decision, you'd like it. I always felt like there was something bothering you when we were together, but you never told me anything.
READ: It Used To Be Us
It's been a hard process for me especially when I see your pictures and see how happy you are already. I thought to myself, "How was he able to move on that fast? And why am I stuck here, grieving about losing him?" I cried every night, or whenever I remember you. I tried messaging you in hopes we'd be able to fix it. I tried telling you how sorry I was for breaking up with you, and that I never really wanted to end it. I just wanted to give you time to change yourself, and some time for me, too.
ADVERTISEMENT - CONTINUE READING BELOW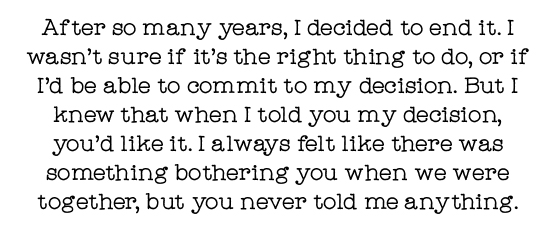 I woke up one day and I got tired of crying, and breaking my own heart. I kept thinking how much you hurt me in the past and that there are so many reasons why I shouldn't get back with you anymore. I'm okay now, and I hope you're doing fine.
READ: But You Won't Let Me
Sent in by Arianne Jane Villalon. Got your own story to tell? Drop us an email at candymagazine @gmail.com! We'd love to hear what you have to say. If you're lucky, you just might get published in this space, too! Please indicate if you want to remain anonymous. We're also looking for artwork and illustrations to use with the stories, so please send some in if you want to be featured!