Just like cliché storylines, we started as friends. But I always knew we were different. The probability of us being close is nearly zero but you were there. You were the first one to approach me and lend your hand when I needed someone to hold onto.
I was just an ordinary, typical girl—one who believes in petty romantic movies, one who believes she has her own fairy tale together with her prince in a shining, shimmery armor. But due to my pursuit for true love, I was fooled by guys who only wanted shallow things from me. Guys who only cared for temporary things like beauty, wealth, and intelligence. It was late when it occurred to me that out of those guys, no one really loved me for who I am.
Then I found you—brokenhearted as well. At first, it was awkward to approach you. You were the type of guy who liked geeky, scientific stuff and I felt like I had nothing to share when I am with you. But to my surprise, you were the first one who really listened to my thoughts. You were the first to eradicate my bitter thoughts about life and rekindled my hope and faith for love. I remembered we were sitting while listening to "The Scientist." Your eyes were fixed on the horizon, mine was fixed on yours, and we shared our bittersweet memories.
It was not hard to love you and your wit and wisdom but I decided to keep my feelings for quite some time. I knew you were still moving on from a girl who broke your heart badly. And I didn't want to confuse your feelings further, so I decided to stay as your friend and be there to listen to what seemed like an endless drama of your monologues.
ADVERTISEMENT - CONTINUE READING BELOW
After Christmas break, I was really falling hard for you but jealousy engulfed me. Talk about you and your ex were starting to surface. I couldn't help but be jealous of her. I was there when she left you—didn't you see me? I was the one you opened up to, the one who probably knows you better than anyone. But you still have pieces of her that you couldn't let go. I was shouting my love for you, but you couldn't hear me because your heart was still beating for another girl.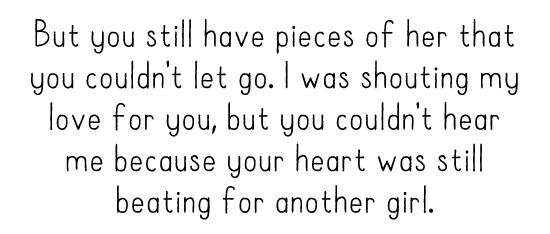 Things got tougher when we did a play as one of our projects in school. The three of us were groupmates. It struck my heart whenever the two of you would cross paths, whenever the two of you would do things together, whenever I'd see her stealing glances at you. I was drowning from my selfishness. Part of me didn't want you to come back to her. She already hurt you once, and that hurt doesn't deserve a second chance. Another part of me wanted to keep you for myself because I knew I could love you better than her. Some girls may be prettier than me, more graceful than me, and can write better rhymes but I know—even God knows—no one can love you as much as I do.
I couldn't handle the destruction jealousy brought me that I started skipping school. You left tons of messages and missed calls but I couldn't get the nerve to text you back or hear your voice. The pain will just come back and haunt me even harder. I almost forgot—you are not mine. And that pained me even more.
Days passed, my parents got worried and insisted that I attend school again. So I did and prepared myself for the most catastrophic that could happen. It was recess time when you found me in the cafeteria. Just like how we met for the first time. Your eyes sparkled. Your eyes became dewy from the tears you were holding back, but you still managed to smile. I didn't know what it meant but I couldn't help but to smile back.
After classes, I was prepared to go home early. I had this gut feeling that you got back with your ex and that I had no guyfriend to hang out with anymore. But to my surprise, you were standing by the hallway, your hair messy as always and from your slouchy position, you stood straight when you saw me. Your face blushed crimson as you pulled me into a warm embrace. At that time, I could feel your heartbeat against mine. We were the only students around so you took your time. After a while, we sat and talked about how things were going these past few days.
I was deeply relieved when you said that you want nothing to do with your ex, that you were completely over her, and you gave your biggest thanks to me for making it happen. But the relief suddenly vanished when you told me about this new amazing girl you fell in love with. I wanted to bury my face into my palms and start sobbing again. But I missed you so much, it was so hard to leave.
ADVERTISEMENT - CONTINUE READING BELOW
But then you stroked my hair and looked into my eyes with a different aura. So different than before. Then you mouthed two words that free me from the loneliness, jealousy and anguish I was feeling. "Be mine."
It was enough to make my heart flutter. It was enough to make me feel loved. It was enough to make me feel oh-so grateful that you chose me. It was enough to make me remember what love feels like. It was enough to make me believe that I don't need a man of my dreams from the fairy tales that I watched, but I need a man who makes my dreams come true.
Sent in anonymously. Got your own story to tell? Drop us an email at candymagazine @gmail.com! We'd love to hear what you have to say. If you're lucky, you just might get published in this space, too! Please indicate if you want to remain anonymous. We're also looking for artwork and illustrations to use with the stories, so please send some in if you want to be featured!