Someone told me that sometimes, holding on is more painful than letting go. It is more painful indeed, especially when you are holding on to something treacherous.
People keep on telling me to move on and stop hoping for nothing. And yes, I am aware that everything about us has come to an end a long time ago. We don't even have memories to begin with. It's just that, I made a big deal out of the things you normally do to girls around you—including me. God knows how I tried. And tried. Until I got tired because every attempt I make seems to fail.
Now, I realized why.
We may not have a lot of memories to cherish, we may not have the friends-to-special-friends-to-lovers kind of relationship, but deep in my heart I know, it doesn't matter. Actually, that's just how my life works. Everything doesn't matter when it comes to you.
I have fallen in love with you the first time I saw you and I loved how you rocked my world just by the things that you do. I've seen many sides of you, be it good or bad and I still love you, anyway. I always imagined my future with you. You have no idea how I love your smile that completes my day and breaks my heart at the same time because I know that it wasn't for me.
And for years, I was consumed by the little infinity I created, silently anticipating for the day you'll show me the true meaning of forever.
ADVERTISEMENT - CONTINUE READING BELOW
But one day, someone slapped me with the truth that I can't have you. That I'm just a delusional, desperate girl for always wishing and hoping that you'll be mine. Because no matter how long I wait, you will never be mine. I was too late. You already gave your heart to her.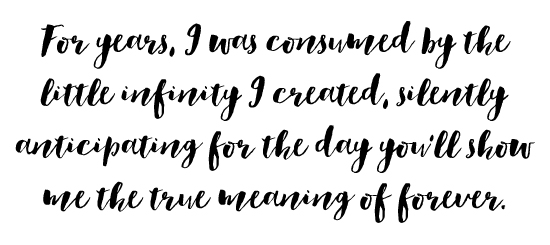 My once burning in red world suddenly turned into darkness when I woke up without you in it, finally realizing that she's right. She has you, and you have her—living proof of forever.
I'm happy for you because I know that you find comfort in her arms. But I'm not happy for myself and I'm sorry because I can never be happy without you. I'm sorry because I still have your name engraved on everything I own. I'm sorry because I just can't stop hoping and dreaming about you, about us. I'm sorry because I am still holding on to the spark of hope I have that one day, you'll love me to the moon and back. And I'm sorry because I love you and I can't forget you.
Believe me, I tried but I failed. Because no matter how I try, everything in me will always find its way home. You are my home.
Sent in by Sharlaine Sibulo. Got your own story to tell? Drop us an email at candymagazine @gmail.com! We'd love to hear what you have to say. If you're lucky, you just might get published in this space, too! Please indicate if you want to remain anonymous. We're also looking for artwork and illustrations to use with the stories, so please send some in if you want to be featured!