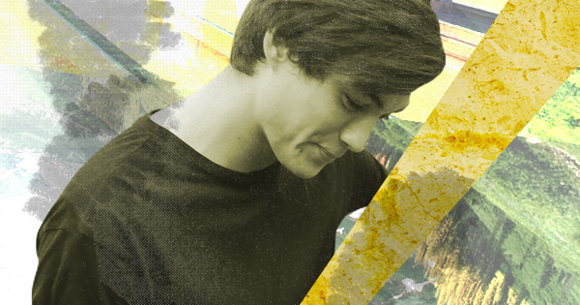 It's funny how immensely my heart wants to write about you. It's been only what, a month or two since I first saw you sitting a table away from me at the library? And ever since that day, heaven knows how hard I tried to keep my feelings at bay.
It was from that moment every fiber in my body, from the pinnacle of my head to the tip of my toe, started to yearn for you: I wanted to get close to you and be with you. I watch you from a distance and imagine what it would be like if I were near you; what it would be like to touch you; and what it would be like to talk to you. Do you speak softly like I do or do you speak with much conviction? Is your hand always cold like mine or is it warm enough to melt the frost in my veins? Are you really the person I had in mind or am I just making you all up in my head?
READ: To the Guy I Thought Was the One
To me, you are like the newest track randomly played on the radio which I haven't heard of before. I was caught in the melody but I have only captured a bit of the lyrics. So I wait for it to be played again every day then I could finally understand and sing along to it once my heart learned its every word and syllable.
Your name has become my favorite word. It's the sweetest sound to my ears like an elaborate poem in just two letters. It became my lullaby then suddenly, it wasn't just a word anymore because it's yours.
ADVERTISEMENT - CONTINUE READING BELOW
You eventually became my 3 a.m. thoughts. For when I can't sleep, it's you who I think of—making up scenarios in my head and remembering the moments the universe conspired to bring us physically closer. I'm not usually an easy person to read but I could go on and tell everyone about the day you held my hands; the day you serenaded me in front of a crowd and went to where I was seated and offered your hand. It was during your talent competition. and I know it was nothing to you but to me it was something.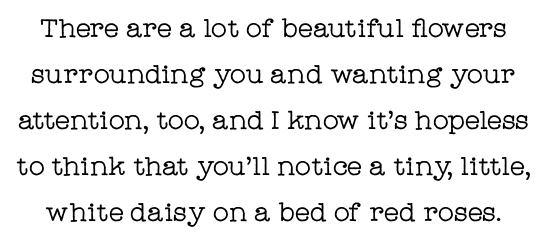 I remember being torn between wanting you to win and wishing you won't when you joined our school pageant. It was selfish, I know, to wish you don't bag the title because I was scared you'd be beyond my reach and that I wouldn't be enough for you. But was it wrong for me to want you just for myself? Yet I also wanted you to come in first since I knew it would make you happy and your happiness is all I want for you even if it would hurt me.
You are the only guy I ever exerted effort for. I made you banners and cheered for you on your pageant night. I never want to skip school anymore and I'd often come early after meeting you. I'd wait for you to pass by our classroom every single day and now, I'm writing about you. I don't know if this would be the only one I'll write about you or if I'll be writing more about you in the future. But one thing's for sure: I really want to get to know you and be close to you.
It's so stupid to admit but I told myself I won't ever like someone younger than me but look at me now, I snivel when I think about us not happening; about me not having a chance with you; and you liking someone else. There are a lot of beautiful flowers surrounding you and wanting your attention, too, and I know it's hopeless to think that you'll notice a tiny, little, white daisy on a bed of red roses. So I am keeping myself from loving you deeply to save myself from harm. But at this point, I am slowly coming to terms with this danger of loving somebody from afar.
If you could just read this, I want you to know how hard I'm crushing on you right now but we're like two planets orbiting the sun in two different axes. We pass by each other from time to time but we can't be together—maybe for now or maybe forever.
ADVERTISEMENT - CONTINUE READING BELOW
Andrea Jade Geronga studies in Bicol University. Got your own story to tell? Drop us an email at candymagazine @gmail.com! We'd love to hear what you have to say. If you're lucky, you just might get published in this space, too! Please indicate if you want to remain anonymous. We're also looking for artwork and illustrations to use with the stories, so please send some in if you want to be featured!