I used to have this strong conviction that refused to believe in fate or destiny. I don't think that some things are meant to happen just because they are destined to. I believe in chances. I believe that when you take a chance on something, on someone, it is the start of a change, of something new and strange. And without taking that shot you will forever wonder about the what ifs. Fate doesn't concoct and decide what could only be the most important moments for us. We take the chance to dive in and take the plunge. We hold the key to opening up the door for new experiences and for people to come into our lives. People whom we can share an adventure with—a journey that could bring us endless happy memories.
This was the reason I took the chance to get to know you. I was afraid and unprepared. I had my very first heartbreak not long before we met. But then I knew I had to get over it and pick myself up. Most importantly, I had to give you a chance. I let you pull me in and all the while all I ever really wanted was to forget about the guy who tore my heart into little pieces. You were eager enough to mend it back together. You were patient enough to wait for the tiniest bit of smile to flash across my face before you call it a day and feel proud that you did your job. You were determined enough to create new memories worth cherishing. All the while, I wasn't able to try hard enough to let you in. All the while, I had been stuck and hung up on an old love that was supposed to be forgotten and shoved far, far away from my thoughts.
ADVERTISEMENT - CONTINUE READING BELOW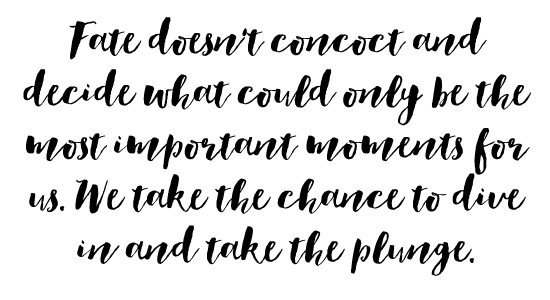 I thought I was ready. I thought I was braving the odds but really, I was only running against fate and destiny. And in the process, I hurt you. I let you in but I took you for granted. I'm sorry for giving you a chance but not totally preparing myself to ride along with it. I'm sorry for stepping on your heart like that when I myself knew so well what it felt like. I hope you will not rush into something as reckless as what I did. I hope you will wait until the person who deserves your kindness comes along. Someone who is not broken. Someone who is selfless enough to reciprocate your good intentions and heart-warming love.
I'm sorry and goodbye,
The girl who broke your heart
READ MORE:
To the Guy Who Keeps on Coming Back
To The Guy Who Left Me For His Ex
To the Guy Who Inspires Me to Write
Sent in by Railani. Got your own story to tell? Drop us an email at candymagazine @gmail.com! We'd love to hear what you have to say. If you're lucky, you just might get published in this space, too! Please indicate if you want to remain anonymous. We're also looking for artwork and illustrations to use with the stories, so please send some in if you want to be featured!