Features
From Our Readers: To The Guy I Stopped Wanting
I underestimated the gravity of what I really felt towards you.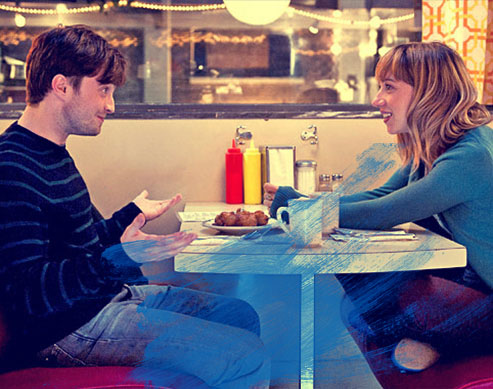 PHOTO CBS Films
I'm usually not the type of person who seeks attention. I would rather have my self sitting in the corner, observing what other people do and say. I listen to many but talk to only a few. Don't get me wrong, I'm not weird (I have a weird side, but a good weird side). I guess you didn't see me weird because you noticed me. You came to one of my friends and told her that you find me cute. You find me interesting. You find me mysterious. You liked me.
I was taken aback when my friend informed me about how you felt. I was shocked and, to be honest, happy. I don't like attention, but that doesn't mean I don't appreciate it. I'm not exactly used to this kind of attention, so my first instinct was to act shy around you. My friends would tell me that you wanted to get my number, you wanted to know me. But why? Why didn't you approach me? Why send flying words? Why not say it to me directly? I guess you were shy, too. Well, my friends told me that it was also your first time to like someone. That you get speechless whenever I'm near, and maybe that's the reason why it wasn't hard for me to like you back. I liked you because you liked me. Insane right, to like someone for that reason? But in my defense, I read somewhere that when you learn that someone has a crush on you, you'll most likely develop mutual feelings toward that someone, too.
ADVERTISEMENT - CONTINUE READING BELOW
CONTINUE READING BELOW
Recommended Videos
So here goes nothing, you kept telling my friends how much you like me, but I never heard a word from you even after I gave you my number. I mustered enough courage to message you first. Thankfully, you replied! You explained your side, you said sorry for being a coward. You were scared for you never felt that way. And I liked you even more because of that. You showed me your vulnerable side. I don't know if you're aware of that, but it made me like you—someone who likes me more.
We would text. We would chat. We would communicate every now and then. We made plans on seeing each other, which unfortunately never happened. We even fought, just like a regular couple would. You told me you loved me. However, I never said I loved you back. I told you to wait, wait until I can say those 3 words to you, until I'm allowed to say those words to someone other than my family. I thought you understood because you said you'd wait, but you got colder. Sometimes, your text would only consist of my name. We didn't have anything to talk about anymore. There were those times that I had to make an argument to have something to talk about.
ADVERTISEMENT - CONTINUE READING BELOW
Then one day, I deleted your number. I decided to stop. To stop wanting you. I decided to stop wanting someone who likes me more. I had myself convinced that I have nothing to worry about because you liked me more. That if this would end, you'll be hurting more. So I don't have to worry much about the pain.
Why? Why did you not try harder to contact me again? Why is it, I feel like I have lost more than I could gain. If the reason why you never contacted me again is you're in pain because I disappeared. If the reason why you never tried reaching for me again is your trampled pride for I left you hanging. Think. Who texted you first? Who was the one who made an effort for us to communicate in the first place? I thought you liked me more than I did. But I was wrong. I underestimated the gravity of what I really felt towards you. You are The One I Like the Most. This made me stopped wanting you.
ADVERTISEMENT - CONTINUE READING BELOW
Sent in anonymously. Got your own story to tell? Drop us an email at candymagazine @gmail.com! We'd love to hear what you have to say. If you're lucky, you just might get published in this space, too!
You'd have to be wide awake at 3 a.m. to show up for class.
Want to become a doctor? This might help you decide.
Curious about what they were like as UP students?
Usual floods will soon be a thing of the past.
Loisa's house garnered mixed opinions from netizens.
'Jowa, jowa, jowa.' --Teddie
And the role of Good Boy goes to...
They were once Green Archers.
South Korea's revised law will give pop culture artists a chance to delay their military service.
According to a new study.
From The Candy Bulletin Community