I hope we last. I hope we do.
But if we don't, this is how I want you to remember me:
I want you to remember me curled up, listening to the sound of your heartbeat. Remember me laughing at your jokes, even the stupid ones. Remember me brave, that time you held my hand and I thought I was going to die while crossing the street. Remember me, scared of losing you. Remember me, almost crying while you're tickling my waist and I was begging you to stop. Remember me happy, and all the ridiculous ways I tried to get your attention, to make you smile, to make you laugh. Remember all the firsts and how they were so sweet that I can remember every little detail. Remember the songs I used to play in your car and the songs I used to sing to you. Remember our plans in the near future; how I get so happy when you're saying that I am the girl you want to marry.
If it comes to it, I don't want you to remember the ending.
Remember the beginning. Remember the first time you knew.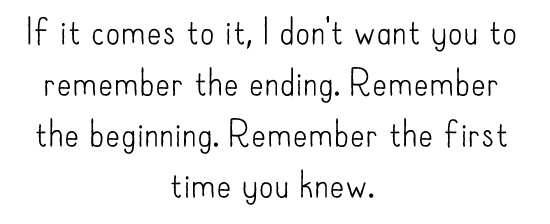 ADVERTISEMENT - CONTINUE READING BELOW
We started off as strangers, strangers turned into classmates, classmates turned into friends, friends turned into close friends, close friends turned into unofficial lovers, and unofficial lovers turned into boyfriend and girlfriend. We started out exchanging smiles, texts, calls, conversations that led to all day talks and late night calls. We were so in love, so afraid of losing each other and we were so sure of each other back then.
I miss you so much. I'm not used to this kind of set-up, not seeing you for weeks. I miss holding your hand. I miss your hugs, those long and tight hugs. I feel so safe when I'm in your arms. I miss your kisses, those stolen kisses that I never expected. I miss riding your back that even though I'm quite heavy, you can still manage to carry me. I miss listening to MYMP songs in your car, or your so-called "My Wife's Playlist." I miss tickling you, because your reactions are too cute when I'm tickling your waist. I miss taking pictures with your phone. I miss those moments that felt like there's no tomorrow. I miss shouting your name in the corridors when you're about to leave. I miss doing silly acts to make you laugh. I miss singing love songs to you. Yeah, I miss everything about you, about us.
It's ironic that the only person that can effortlessly make you smile is also the person behind your tears. I wanted to take you back. But I realized that no matter what I do to take you back, it will be useless, if you have no intention to take me back, too. I was planning to stay. I really wanted to stay but you didn't ask me to. I chose to hold on to you, to us that's why I didn't give up so easily. I don't care about your past—whatever you did, whoever you were with. When I started loving you, I already accepted all of you, including your imperfections. The most important thing is that my love is greater than your failures.
I told you before that I will never leave you; that I will not fall for somebody else; that I will not lie to you; that I will not break your heart no matter what happens; that I will never give up on you, on us. We even prayed for it. That whatever problem that will come, no one will give up. I will love you and stand by you even through the worst of times. Don't say that you're not the right guy for me. I chose you, which means that for me, you're the right guy. I didn't lose hope that we will still have our second chance. After all that has happened, I'm still willing to accept you. But if you really want this to end, that you don't want to fix this anymore, I'm willing to let you go. I will accept whatever your decision. I love you that much to let you go. I think that's what love means. Love meanst that you care for another person's happiness more than your own—no matter how painful the choices you face might be. And, if that's the case, we're never going to make it. We can no longer fulfill our promises of marrying each other someday. I can no longer be your wife. I cared so much, you didn't see it, and yet, it's not enough. I am a nice person so I'm willing to give you what you want and this is it. This is what you want. I guess this is our goodbye.
ADVERTISEMENT - CONTINUE READING BELOW
Thank you for everything. Thank you for the love and care you showed to me. Take care of yourself always and always try to put a smile in your face even though in times of trouble. Keep in mind that you will be my forever and always. I will always love you even though fate has separated us.
I hope she will love you more than I did. I hope that she will love you unconditionally even if she has a million of reasons not to. I hope that she will try to understand you, always. Lastly, I just hope that you'll find happiness. True happiness by coming back to her and choosing her.
Sent in anonymously. Got your own story to tell? Drop us an email at candymagazine @gmail.com! We'd love to hear what you have to say. If you're lucky, you just might get published in this space, too! Please indicate if you want to remain anonymous. We're also looking for artwork and illustrations to use with the stories, so please send some in if you want to be featured!