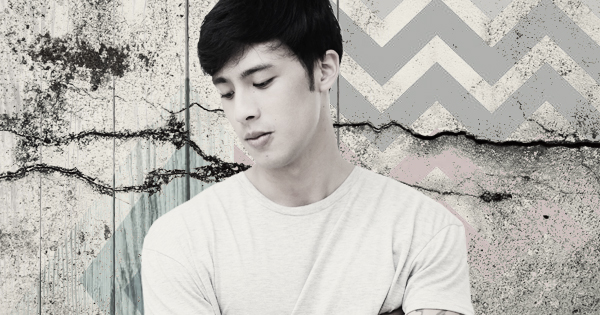 I still remember the day I told I liked you. You simply smiled and said nothing. I still remember the day you said you felt the same way. It made me the happiest girl. We were young and carefree, not thinking of anything. All we knew was that we loved each other. However, as we progressed, certain things came along and I chose to end it. I didn't even tell you why. I still remember the way you looked at me and the words you said like it was yesterday. It pained me to see you go and walk away from me. But then, I couldn't tell you that ending things with you didn't mean I didn't love you.
As the school days went, it was hard for me to face or even talk to you. We just minded our own business. Then one ordinary school day, I heard that you were in another relationship. It was devastating to know. It was like my heart crushed into millions of pieces. I asked myself why it was so easy for you to move on and I couldn't. To see you with her made my heart burn, but I stayed quiet and kept my distance. I pretended to be okay and put on a smile. Believe me when I say, I loved you even when you didn't. I wanted to tell you but seeing you happy again, I couldn't take that away from you. Then grade school ended and I never got the chance.
ADVERTISEMENT - CONTINUE READING BELOW
I thought that it was just puppy love. That it didn't mean anything and it was just a phase in life. We went our separate ways and I believed I would never see you again. Then one homecoming reunion, I saw you and everything came back to me. The love, the care, the laughter, the memories and the pain. Then I knew, I just knew that it was still you. But I missed my chance and you were so happy in your relationship. I didn't want to be the reason of ruining your relationship so I stayed away. I thought it was going to go away, my feelings overwhelmed me.
But I was wrong. The feelings stayed and up until now, I know they are still there. In 6 years, an image of you always came to mind and it never failed to put a smile on my face. I ask myself all the time, what it was about you that made me love you so much. In these 6 years, I was hopeful that you would see me again. That as long as I waited, you would see me the way I always saw you. Even if you have had a few relationships after me, I waited because I thought that it would be worth it in the end.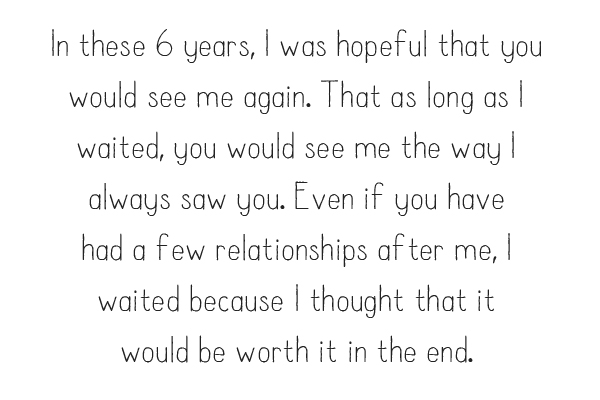 I loved you so much, it pained me. Then I realized I have to let you go and that my dream of 6 years will never be a reality. You've long moved on while I held on. You've long forgotten me while I remembered all the memories. I guess for 6 years, I always knew that it will never happen but I just turned a blind eye and became a fool. The most painful part of all it is you never knew or you knew, but you chose to ignore it. You never knew that there was someone who truly loved you, someone who was willing to wait for you. You never knew I was there.
But I guess it was my fault. I was the one who ended things between us anyway. I need to let go. I have to let go, because I know what we had is long gone and it is best to leave it as it was. I know I deserve better, someone who would love me more than I love myself.
I would like to thank you though. It was you who made me feel what it felt to be loved by a guy, how it felt to be special to someone. You were the guy who made me realize my capability to love, who showed me how to love. Thank you for the friendship, the love, the care, and for the bittersweet memories. I know you will always have a place in my heart.
ADVERTISEMENT - CONTINUE READING BELOW
After all, you were the guy I loved for 6 years.
Written by Jamie Vitto. Got your own story to tell? Drop us an email at candymagazine @gmail.com! We'd love to hear what you have to say. If you're lucky, you just might get published in this space, too!