I remember the first time your eyes met mine. You were smiling so widely and I found it very cute. I always thought you were smiling because you were really just a happy guy. Never did it cross my mind that you were smiling because of a girl.
I remember those times when I was very tired and stressed during weekdays because of college but when Friday comes, a smile slowly spreads from my lips. I loved Fridays because Saturdays always come next. And only during Saturdays was I able to see that smile of yours because we study at the same university but we go to two different campuses.
I was only an assistant of the ROTC Secretary and you were an officer. I loved it when you would enter the office and smile at us, hoping that your smile would be for me. I loved how you held that camera and took pictures with that smile of yours that kept making my heart flutter. I prayed that someday, you would secretly take pictures of me, show them to everyone and tell them how beautiful you think I truly am. I'm not wishing for a breakup between you and your girl. I can see how happy she makes you and seeing you happy, makes me happy too. Besides, you look perfect together.
ADVERTISEMENT - CONTINUE READING BELOW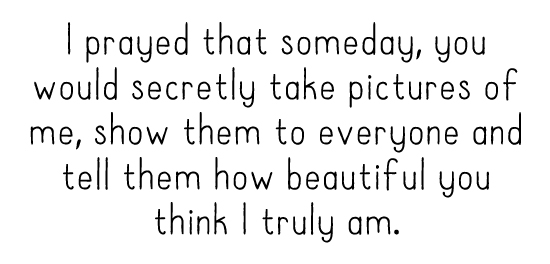 READ: To the Guy I Loved For So Long But Never Fought For Me
I fell in love because you were a different guy. You were the kind of guy I felt like I needed, but you were already taken. All I can hope for now, is that your relationship stays strong and both of you would stay loyal.
I loved you—I still do. But you truly love her, and that's why I loved you.
Sent in anonymously. Got your own story to tell? Drop us an email at candymagazine @gmail.com! We'd love to hear what you have to say. If you're lucky, you just might get published in this space, too! Please indicate if you want to remain anonymous. We're also looking for artwork and illustrations to use with the stories, so please send some in if you want to be featured!