It happened so fast—me falling inlove with you. You were dancing that day and I was passing by the lobby of our school building while you were doing some complicated routines with your group. I was impressed because you've got the moves of a dancer.
From that moment, I knew you were different from any other crushes I had before because why the hell couldn't I stop thinking about you? Especially, when I entered your class and you asked for my name. We became friends. We started to exchange smiles every time we see each other. I was beyond happy that I couldn't stop thinking about you and it was driving me insane! Before I'd go to sleep and when I'd wake up, even in my dreams, you were there, invading my system, slowly breaking the walls I built for many years. And before I could stop myself, I lost it. I fell in love with you—hard and deep.
I am a carefree person and doing crazy things makes me happy. I was known for being crazy and I loved it. But now, you know what's funny? It was the fact that for the first time in forever, I felt scared. Scared of things I might do beyond my sanity just for you.
Everything was fine, you and me being friends. My colleagues were even supportive about my feelings for you and they keep on telling me to continue. And that was the cue for me. Before I knew it, I already sent you a message, saying how much I love you and that how you drive me insane.
ADVERTISEMENT - CONTINUE READING BELOW
But the reply I got made me immediately regret what I did.
You have a girlfriend.
That explains why you keep on ignoring the letters I sent you even if we both knew that I was the person behind those letters. It was because you already had your happiness beside you. The sad part? It wasn't me.
And that was enough reason to break everything in me.
I am aware that somehow, people think that I'm just infatuated with you. That everything I feel for you will soon be gone. To be honest? I felt insulted. I was hurt because they were underestimating my feelings for you.
I have never been this scared thinking how will I face tomorrow without your smile to brighten my day. But I know I can and I should because at the end of the day, the blame will always be on me. It was my choice to stay even if I have all the reasons to forget everything about you.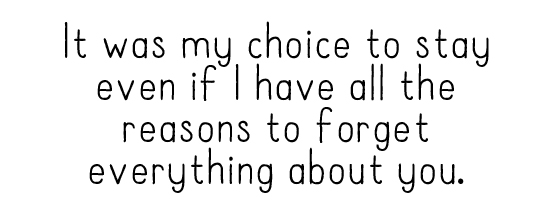 READ: It Hurts To Ask Someone to Stay When All They Want to Do Is Leave
It's my fault because I hoped. I assumed. I gave meaning to your his and hellos. I let your words creep into my heart and be the fire igniting feelings for you.
Giving up was harder than I thought. It's always been easier said than done. Letting you go means giving up my happiness and try to live in a pitch dark world without any trace of light.
I might have to let you go now, but I want you to know that you will always be the perfect mistake I made. You're the reason behind my laughs and tears. You're the guy I love. Always have, always will. Forever.
Sent in by Sharlaine Sibulo. Got your own story to tell? Drop us an email at candymagazine @gmail.com! We'd love to hear what you have to say. If you're lucky, you just might get published in this space, too! Please indicate if you want to remain anonymous. We're also looking for artwork and illustrations to use with the stories, so please send some in if you want to be featured!