When we like someone, we instantly see all his actions towards us in a different light.
That sideway glance that was accidentally thrown into your direction would instantly be perceived by your hopeful heart as him trying to catch a glimpse of you when you think you don't notice.
You would try so hard for him to notice you, and when he finally does, it's like heaven suddenly opened and a divine force has been bestowed upon you.
He suddenly becomes aware of you and though that might be both good and bad, you can't help but like the fact that he's cool with it and he would even throw a smile once in a while in your direction.
Your smitten heart is falling deep in the zone of infatuation and every day seems like something to look forward to because you'd see him again. And the more he becomes aware of you, the more your encounters seem to be a little longer lasting. He would suddenly laugh at you and your friends' antics. And did I mention about that stare he gave you? The one wherein he has a lopsided grin on his face and you could swear you could hear some music in the background that would probably sound like "Your stare was holding..."
And in an instant you're calling all your girlfriends and reporting to them about the 15-second encounter the two of you had when you met him in the hallway. Not to mention all the scrutiny you did in those 15 seconds, like every breath he takes is crucial for the determining whether or not he likes you back.
ADVERTISEMENT - CONTINUE READING BELOW
And no, I'm not talking about the "I met him in the hallway a while ago" kind of thing. It's more of the "I met him a while ago! He looked at me, bes! I'm sure his eyes locked into mine. I mean why would he look at me, right? And I'm sure he smiled a little. Does he like me back?"
And your friends would either be the kind who would be tired of hearing about your unrequited fantasizing or they'd be the supportive kind who'd push you gently when he passes by so the two of you would "accidentally" bump into each other. And at times they would even be the ones to be overjoyed when an encounter happens between the two of you as if it's their own love story unfolding.
And you thought the bliss would last and even turn into something much more than mere infatuation because HE ALREADY NOTICED YOU! It was just a matter of time before the two of you started talking and become friends and then eventually into something more.
But then like all other good things going wrong, you see him with a girl, one whom you can't seem to hate because the two of them look like the picture-perfect couple. And you try to make excuses about how she might just be an old friend but then a rational part of your brain scolds you because old friends don't hold hands like that.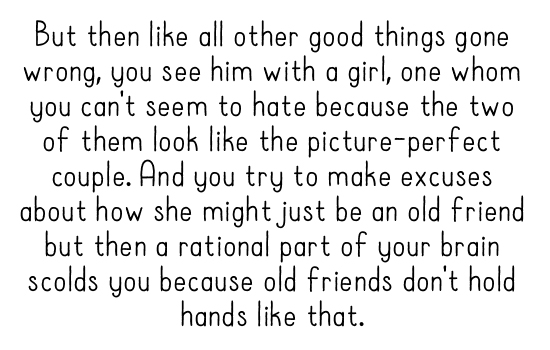 Then a pesky intruder confirms that he has a girlfriend and you just want to shut that person out because you don't want to dwell in that reality yet.
That reality where he doesn't like you back.
Sent in anonymously. Got your own story to tell? Drop us an email at candymagazine @gmail.com! We'd love to hear what you have to say. If you're lucky, you just might get published in this space, too! Please indicate if you want to remain anonymous. We're also looking for artwork and illustrations to use with the stories, so please send some in if you want to be featured!