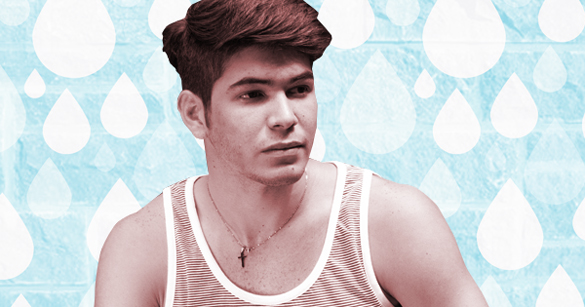 To the guy I confuse with my thoughts,
You're the type of guy any girl could easily just fall in love with. You're talented, sincere, caring and a gentleman. The kind of guy girls wish to have, the kind of guy writers write about in their stories. Guys like you are indeed one of a kind. I was lucky enough to catch you off-guard. You swept me away in a matter of days. I guess you could say that I was lucky enough to be minded by you. You tell me words every girl wants to hear, words I don't expect to hear from you. You could listen to me talk all day without getting exhausted while we talked about everything under the sun. From small talks to our constant 3 am conversations.
You knew almost everything about me while I knew less about you. I didn't mind, when the time is right maybe you'd let me know you more. Funny how you could tell if I were smiling, rolling my eyes or if I didn't mean what I say. Weird as it was, it took me a few tries to finally come to a conclusion that maybe I am falling for you. Being a girl who has fallen in love a couple of times before, falling in love started to become something I didn't want to encounter again—or maybe in a few years. But after months and months of not feeling, you come around and I started to feel again. I bombard you with self-denial and confusion while I frustrate myself with late night thoughts and battles with my brain to whether or not I really am starting to fall for you—I deny and confuse you once again.
ADVERTISEMENT - CONTINUE READING BELOW
ADVERTISEMENT - CONTINUE READING BELOW
I'm really sorry for that. For making you feel like your efforts don't mean anything to me when it's what keeps me awake every night. When it's what I've been thinking about ever since. You could give so much more, I know you could. And just the same, I could be reciprocating everything but I made a mistake not to. I hope you don't get tired. You say that you hate it when people make you wait. Well, I hope deep down inside there's still something that would make you want to continue and stay. As stupid as it seems, I'm starting to see the good and the possibilities that could happen between us. I hope you start seeing them, too.
Love,
The girl who wants to try but is in denial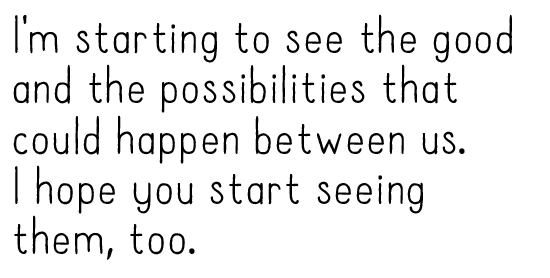 ADVERTISEMENT - CONTINUE READING BELOW
READ MORE:
To the Person Who Made Me Dream
To the One I Never Asked to Stay
To the One Who Waits
Sent in by Charly Ocampo. Got your own story to tell? Drop us an email at candymagazine @gmail.com! We'd love to hear what you have to say. If you're lucky, you just might get published in this space, too! Please indicate if you want to remain anonymous. We're also looking for artwork and illustrations to use with the stories, so please send some in if you want to be featured!