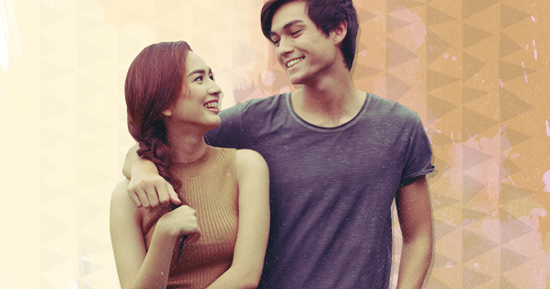 So you probably heard about me, the heartbreaker, from his friends, from his colleagues, from his parents perhaps or maybe directly from his lips. And probably, you're dying to know everything based on my point of view. So your wish is my command.
Well, hello there. This is the girl he used to love. This is the girl who broke his heart into pieces. This is the girl who gave you the chance to be happy with him.
This is the girl he no longer loves.
Once again, hi there. I know you probably wonder if he still feels a beat for me or if I still do. You probably wonder how he surprises me on monthsaries and holidays. You probably wonder if he's as sweet to me as he is to you. You probably wonder what would happen if I suddenly come back and end your fantasies. But the thing is—I wouldn't be. Up until now, you're probably trying to exceed me in every way from how I dress to how I think and to the way I make him happy and more. But hey, stop. This is not a competition. It never was. It's more like passing a crown to someone else. A very precious crown.
So now I want you to listen carefully because here are my regrets. I know it's too late for that but at least, I want you to know about these things because regret is more painful than heartbreak.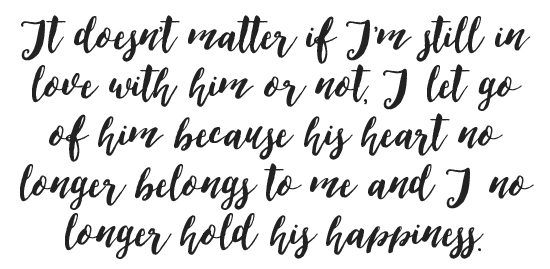 ADVERTISEMENT - CONTINUE READING BELOW
There are things you probably don't really enjoy about him like how he wakes up late all the time, but notice how he tries to make it up to you by keeping you company at night through his text messages and calls. You probably hate how he always has no time for you, but notice how he never forgets important dates like how he called you on your birthday at the stroke of midnight. You probably hate how he's not all sweet through text messages, but notice how sincere he is when he says "I love you" and "I'm sorry." You probably can't appreciate many things about him, but notice how much he truly loves you.
So again, this is me, the girl he once loved, giving him all to you. It doesn't matter if I'm still in love with him or not, I let go of him because his heart no longer belongs to me and I no longer hold his happiness. Things might have not worked out for us but he remains to be special to me in a different way with how special he is to you. So please take care of the guy who was once mine because he taught me a lot of things. He was there when I was feeling down, bought me gifts, made me laugh, protected me, took care of me, and filled me with joy.
Please do not break his heart because I know how much pain there is in seeing him broken. Please withstand forever with him by your side. Please love him the way he deserves to be loved.
READ: An Open Letter to the Girl Who Fell in Love with Her Friend
And I wish you both all the happiness.
Sent in anonymously. Got your own story to tell? Drop us an email at candymagazine @gmail.com! We'd love to hear what you have to say. If you're lucky, you just might get published in this space, too! Please indicate if you want to remain anonymous.