You arrived at the place where I was interning and looked at me with laughter in your eyes and a knowing smile. Your 5'11 frame in a black leather jacket gave me a whole new meaning to "I knew you were trouble when you walked in."
It wasn't until I was attending to you when you asked me a question that took me by surprise. You asked me if I still remembered you. At that moment, I didn't. I pulled back my head with my eyes wide with obvious confusion while you chuckled in amusement. "I used to bully you when we were kids," you said. And everything clicked and fell into place.
READ: My Month of "Forever"
Thirteen years ago, when I was 7, a larger, older boy in school bullied me incessantly for being toothless and for being so intsik that I probably couldn't see. That 9-year-old boy was the only one I couldn't dare punch in the face. That boy was you.
ADVERTISEMENT - CONTINUE READING BELOW
You apologized. We laughed off the past. You asked me out on a date—we ended up going out on several.
And for a while back then, I felt my insecurities slowly disappear. I didn't need to hold back with you. I loved arguing and we argued on little things just for fun. We debated against each other without the aggression and even then, you made it a point for everything to end with a hug and a forehead kiss. You were this ocean of love and happiness and all I wanted to do was drown myself in you.
That's exactly what happened. I drowned in you.
And when I did, you withdrew yourself from me–from us. You stopped wanting to know how my day went and you stopped communicating with me. One day we were calling each other love and the next thing I know you wouldn't text me–let alone see me. You pulled the rug from under me faster than I could ask, "What happened?"
It was like everything was a big fat joke and someone was going to come out with a camera crew and tell me I just got pranked. But there was no camera crew, because this was reality. And in reality, you've already disappeared.
Maybe I should've considered the fact that a bully will always be a bully–in one way or another. You may not have outright bullied me in the literal sense of the word, but you did make fun of me and of what I felt. You made me a fool.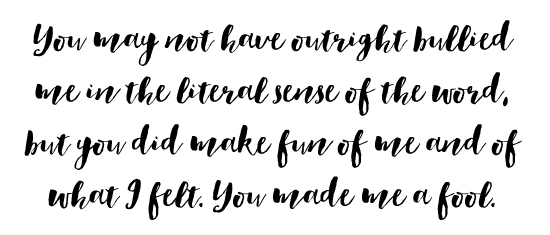 ADVERTISEMENT - CONTINUE READING BELOW
I had been waiting for some time for you to come around, maybe say you were scared or some lame excuse like that. But it's been months, and I'm tired of the insecurities that have come flooding back to me since you left. To the boy who bullied me, I hope you've found someone else to bully. No, scratch that, I hope you've stopped the habit of bullying and playing with people, because it freaking hurts. I am tired. I am exhausted. And I am through with loving you.
Sent in by MMA. Got your own story to tell? Drop us an email at candymagazine @gmail.com! We'd love to hear what you have to say. If you're lucky, you just might get published in this space, too! Please indicate if you want to remain anonymous. We're also looking for artwork and illustrations to use with the stories, so please send some in if you want to be featured!
ADVERTISEMENT - CONTINUE READING BELOW