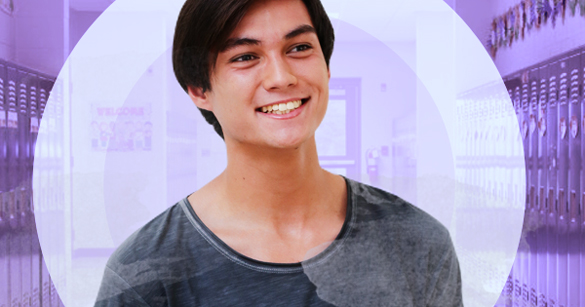 After everything that happened in the past, I never thought that my heart would beat for someone again. I thought I was already numb and heartless because of all the anger and bitterness that filled it. But the first time your eyes met mine, I felt something magical yet frightening.
Magical because I heard the fireworks inside me explode, yet frightening because I was afraid to get hurt like before.
Your eyes were like the fairy tale I was looking for. Your smile always capable of making my horrible day a lot better, better than any other day I spent before knowing you. Your voice could make the greatest songbird question their ability to sing.
I get hurt every time I see your name on the page of our University's crushes because I can't imagine how many girls out there are also wishing to be yours. Just imagining myself being part of the sea of girls makes me question if I deserve someone who will appreciate my worth just as how as I appreciate everything about you. I know I never stood a chance to be your girl, your one, your love, yet you'll always have a place reserved here in my heart.
ADVERTISEMENT - CONTINUE READING BELOW
ADVERTISEMENT - CONTINUE READING BELOW
I'm sorry for all the whispering you hear from my friends whenever we see each other in the hallways. I know you never planned to captivate me by your charm but it is seriously hard to resist.
It's hard to differentiate myself from the rest of the girls. I am not Miss Popularity, Miss Talent, or Miss Beauty and Brains but please can I ask you a favor? Just one hug to bring my broken pieces back together.
I never stood a chance to be your one and only girl, the luckiest girl in the world, but always remember: You are the risk I'm willing to take. You are the love I can never forsake.
Yours, always.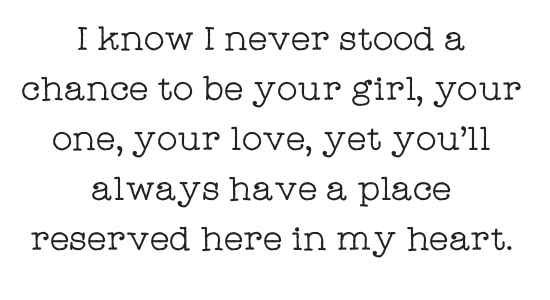 ADVERTISEMENT - CONTINUE READING BELOW
READ MORE:
To the Guy I Thought Was the One
I Wasn't Enough For You
Someone I Can't Call Mine
Sent in anonymously. Got your own story to tell? Drop us an email at candymagazine @gmail.com! We'd love to hear what you have to say. If you're lucky, you just might get published in this space, too! Please indicate if you want to remain anonymous. We're also looking for artwork and illustrations to use with the stories, so please send some in if you want to be featured!