If only I'd ever known that I'd fall for you, I could've stopped myself right at that moment. But for now, I'm four months too late.
I've always tried to convince myself that boys of our age were total players who only go for the pretty and the popular; the ones who chase after girls who are not on the same level as they were, and become totally devastated by the mere fact that they will only get rejected in the end. That was pretty much how I saw our fellow guy batchmates. During that time, I never felt guilty about generalizing the opposite sex... All because of one guy who broke my heart. And from then on, I built these walls around me, to defend myself from boys who were probably just going to fool around with my feelings. I proudly saw myself as a man-hater which was ironic in my case, because from time to time, I went on liking one guy to another. Nothing really serious, just a few crushes for the same cliche reasons: Something to gossip over with the barkada, and someone to play the role of an ideal future husband in my daydreaming sessions. Never did any become the first thing that came into my head in the morning, nor the last thought before I always went to sleep... Until the day I met you on the first day of our senior year at high school.
It wasn't love at first sight, no. I thought you were someone who'd cross my mind for some other reasons, just like anybody else. At 16, I only saw you as the stereotypical guy that loves to play basketball who fell head over heels for one of my kabarkadas. We never talked. I let you be. I just never saw it coming. My feelings for you accumulated as the time went by, without me realizing it. In the beginning, you were just a regular classmate who liked to joke around and make other people laugh with your laugh. Maybe it was the way you styled your corny jokes that made me fall for you. Maybe it was your smile and how it lit up my boring week days. Or maybe it was just the whole of you, that had me spellbound.
ADVERTISEMENT - CONTINUE READING BELOW
And that was the moment I knew, I already fell for you.
I didn't want to fall for you in the first place. I thought I'd only be with you and the rest for 10 months until we graduated. Then maybe we'd never see each other again. That was all. But I did. Since I had walls around me, I desperately tried controlling myself. In the end, I failed. I just let nature do things on her own I notified my friends about the feelings I was having for you. It was good, because they were always there to support me. I only asked them of one thing: To let things be. But then you eventually found out because of the constant teasing my friends made whenever you were around. To be honest, it was the first time I felt so brave. I didn't deny liking you. In fact, I liked these feelings. They helped me soften up my hard shell. Liking someone wasn't so bad after all. I only feared that you'd stray away because of the feelings I had for you. I still wanted to be your friend.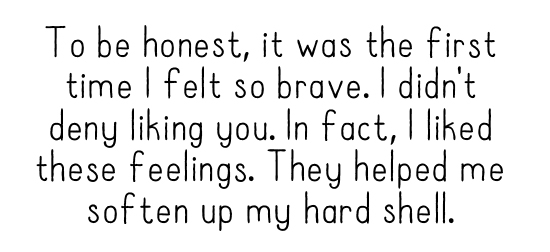 The sad part is, I'm already the one head over heels in love with you, and I know you'll never feel the same way. I know I'm not the pretty girl, nor the popular one, neither am I interesting, but at least I learned one thing. Not all guys who chase after girls are evil. They just want to feel loved. At some point, I thought you liked me back because you said so. Maybe you were just overwhelmed by the fact that someone like me could fall for someone like you. I love you because you're you. You're different, and to me, your flaws are perfect. Falling for you was like falling from the sky to the building, then rolling off to the cold cement 50-feet high. I knew I had to catch myself in the beginning, but I wasn't so sure the next time.
However, I'm not hoping for these feelings to fade away. I wish to keep them because they make me happy. YOU make me happy. I can wait for you even when I think there's a slight chance of me and you. I can risk being single and all because I found the rainbow to my rain—you. I love you, I love you, I love you. I could say it over and over again.
If God won't let me have you in this lifetime, I just want you to know that I was lucky to have met you. It's a privilege to love you in my own way. Thank you for existing. Thank you for burning the shadows in my heart.
ADVERTISEMENT - CONTINUE READING BELOW
Sent in by NTRB. Got your own story to tell? Drop us an email at candymagazine @gmail.com! We'd love to hear what you have to say. If you're lucky, you just might get published in this space, too! Please indicate if you want to remain anonymous. We're also looking for artwork and illustrations to use with the stories, so please send some in if you want to be featured!