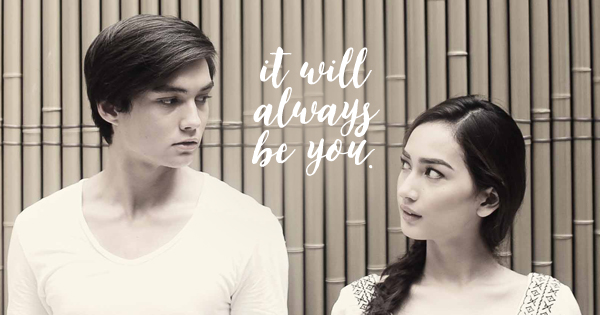 I was this girl who fantasized a lot for perfect boys: intelligent, strong, book lover, gentleman. Because yeah, I read a lot and will put my standards higher than expected. And you are this boy who just took me for granted: Helped you a lot with your homework, with your projects. and even helped you in pursuing that one girl you're dreaming about.
In short, you're one hell of a jerk (and I'm sorry for that), a user friend, and a boy who couldn't even tell how hurt I was. Yet I still loved you back then.
I guess I was just this ordinary girl who read a lot of books, a straight A student (whom you always depended on when you were getting bad grades), and a martyr. You'd never see me as this girl who loved you and no matter how hard I tried to move on these months of not seeing you, I think it'll only go back to the way things started.
Then this one unexpected time, you talked to me like nothing happened, like you didn't know I had feelings for you. I can't explain. You, asking me to be your best friend. I was having doubts at first. Because of your one and only motive: to get close to this girl you fancy because she and I are on speaking terms.
Yes... she is so beautiful, intelligent, has the body to die for, and popular. She is also kind, very caring and soft spoken—that's how I saw her. She's almost perfect, so far from what I am. So far from who I am. So far from your standards.
ADVERTISEMENT - CONTINUE READING BELOW
I know I have such high standards, but what right do you have to set those kinds of standards? You've been a jerk to me, and yet here I am still in love with you.
But what can I do? I have no power over these things. It doesn't matter if I never felt those feelings while you were away. I still keep coming back to you. I still help you because I know it'll make you happy. I know that when you talked to me, touched my hands, a smile formed on my face. Those feelings will always return because from the very beginning, I knew it would always be you for me.
I don't regret accepting this little friendship. It sounded so stupid to accept this, but I know this is the only way I to make things easier—and that is to think that it will always be just friends. We're just friends. And a simple thank you from you is all I need let me know that you are starting to treasure this. I don't want to lose you.
My friends used to tell me that you're not worth my attention, but I refuse to listen because I'm so afraid. I'm afraid one day, you'll stray away because you finally got the girl you want. That's why I need to keep you close. I don't want to lose you again like the last time I said I love you. At least this time I got say I love you because you're my best friend.
READ: To My Ex-Best Friend
I'm hoping that one day, my feelings will fade just like it appeared today. So I won't feel like this miserable and ecstatic when I'm around you.
Written by tados. Got your own story to tell? Drop us an email at candymagazine @gmail.com! We'd love to hear what you have to say. If you're lucky, you just might get published in this space, too!