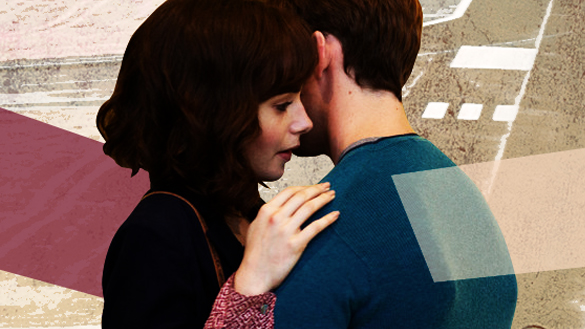 To My Own Alex,
I still remember when it all started. I was heartbroken because of the guy I love most. A one-month relationship with my very first boyfriend wasn't just a joke for me. I spent months crying, and crying, I was even on the verge of self-harming. And that's when it all started.
We weren't friends at first really; we were just batch mates. That's all. But you started talking to me and helped me stop self-harming. We became really, really close and spent time with each other. That's when I realized that I'm so lucky that you chose to help me. Me. You're the heartthrob of our school, amazing football player. You're good-looking and funny, which makes all the girls drool over you. You're really popular, but you chose to spend your time helping me.
But you liked this girl Bethany.
When I found out you liked her, I experienced a sort of ache in my heart, but I just ignored it. Months passed by and we became closer and closer. You made me feel really special and there was this point I thought you liked me, too. We would always take silly pictures with each other, I would go to your hotel to have breakfast with you, spend 5 hours video-calling each other on Skype, we would study together to prepare for the exams and plan to go shopping together. It came to the point when all of the people around us started asking if we were a couple. And everyone shipped us! By everyone I also mean the girls that like you and even my mum. Funny, isn't it? I would just smile and shake my head off as a sign of "no."And you would get mad at them for thinking we were anything but friends.
ADVERTISEMENT - CONTINUE READING BELOW
Then one day, I just realized that I like you. How stupid I am, because I had one job and only one job only. That is to never fall for you. But I did and maybe it's because of your laugh, the way your eyes crinkle when you smile, the way you smell. Or maybe it's the way you squeal and cheer with your pretty high-pitched voice whenever you watch a football game, or the way you curl your lips while your hazel eyes are focused on something. Whatever it is, it made me fall. Pretty damn hard.
I didn't confess that I like you, because you told me you knew already. But despite that, we were still best friends. Which made me happy—and sad at the same time.
It was Saturday when you told me you really like this girl, I asked if it was Bethany and you told me it wasn't. It was someone else, someone really special to you. I asked you, forced you to tell me but you wouldn't, you said I should wait. The day after, something happened. I got back together with my ex. You said you were really happy for me, but also told me that someone else out there can make me happier. Someone who truly deserves me. I brushed it off and changed the topic.
Then you confessed to me that I was the girl that you were talking about—someone who is special to you, the one you really love.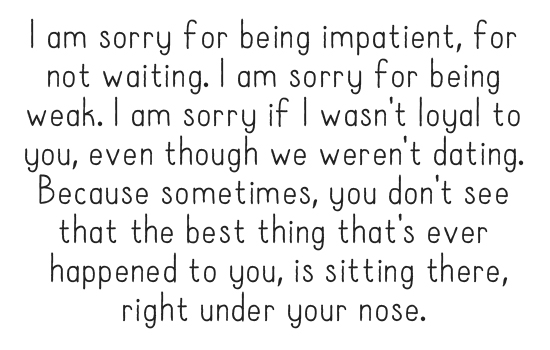 Now Alex, here is what I want to tell you. I am sorry for being impatient, for not waiting. I am sorry for being weak. I am sorry if I wasn't loyal to you, even though we weren't dating. Because sometimes, you don't see that the best thing that's ever happened to you, is sitting there, right under your nose.
ADVERTISEMENT - CONTINUE READING BELOW
It was no ordinary friendship. We were inseparable, constantly being separated. And now that I am leaving the country, I want you to know that no matter where you are, or what you're doing, or who you with, I will always, honestly, truly, completely love you.
Keep in touch, okay?
Love, Rosie
Sent in anonymously. Got your own story to tell? Drop us an email at candymagazine @gmail.com! We'd love to hear what you have to say. If you're lucky, you just might get published in this space, too! Please indicate if you want to remain anonymous.