It's been a while since we last talked and met. It should've been a year of being madly in love with you again. I lost track of time after I left you. Yes, I did lose you but it seems that you never left. You remained in here even after you hurted me so many times. I am a fool for love, you could say that. I know you know why I left. It was because all you were asking for was too much from what I am capable of giving. I was so torn between what my heart was saying and what my mind was telling me. Honestly, I saw my life with you, you never missed my plans. You know that we dreamed together. We made plans for each other and we promised ourselves it would be us til the end. But what happened? What went wrong? What did I do to deserve this?
ADVERTISEMENT - CONTINUE READING BELOW
Everything was going steady after we found our way back from our first break up. But it seemed like we're having a hard time coping up with each other. I was so stressed back then with school and you. I can't keep up with what was happening with my life so I thought of leaving you and just giving up but I never did that because I really can't. You were so special to me. But problems and misunderstadings came and you left me again for the nth time and that's what made me decide on leaving permanently. I decide to leave you behind and start another chapter of my life with myself first. I wanted to find and fix myself back then. You wouldn't understand but I was beginning to see my future without you.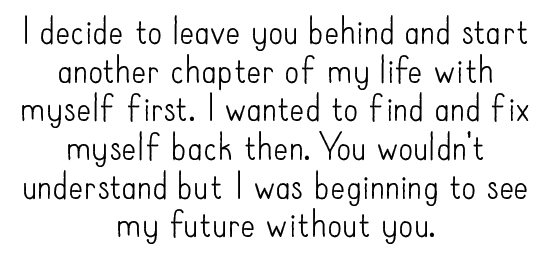 I'm sorry. It was because you were becoming so vulnerable and dependent that I couldn't take it anymore. I didn't want you to become like that but you were starting to so it made me think of leaving and starting on my own once again. I wanted to distress myself from this pain and tiredness I was feeling. I told you that you wouldn't understand because you weren't in my shoes. It also confused me how honest you were with your feelings because you started to make a move on your ex once again. We had said "I love you" to each other a few weeks ago only to find out that you're back together with her. Everything for me back then fell apart because a big part of me was taken away. There was never a moment that I didn't think of you and how you are doing. Are you happy? The thought of getting back together never left my mind but it also made me realize that I should be happier with this decision and feel grateful that there's also someone giving me much more happiness now.
ADVERTISEMENT - CONTINUE READING BELOW
I want to apologize for everything that I've caused you. I want you to know that you'll always have a space in my heart. And I hope I'm still welcome in yours, too, but as a friend. I would be so happy if you would allow me to be. I can't wait to see and talk to you again. I wish you happiness, King.
Sent in anonymously. Got your own story to tell? Drop us an email at candymagazine @gmail.com! We'd love to hear what you have to say. If you're lucky, you just might get published in this space, too! Please indicate if you want to remain anonymous. We're also looking for artwork and illustrations to use with the stories, so please send some in if you want to be featured!