I used to believe love feels like heaven that will lift you off your feet, up in the clouds, a feeling of complete happiness and fulfillness. But it's not. Love is like a prison surrounded by barriers with chains gripping at your feet, holding onto you, and dragging you down until you're completely lost.
That's what I came to realize, that love is just a fantasy. We create this whole new world of perfection inside our minds to escape the imperfection of our realities. We believe that a single person should be the huge change of our lives—for better or for worse.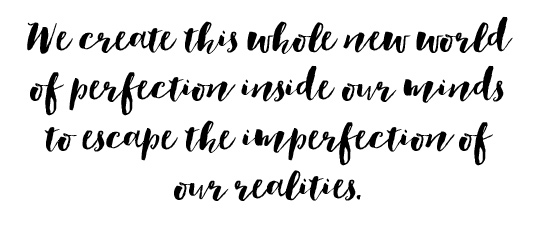 READ: A Letter to My Old Self
For instance, there comes a time in each of our lives where we meet this one person that would truly change us. That one person that would make us believe that love really do exist. Until they break us apart and leave us like nothing ever happened.
It happened to me once, when I met you. You were nice, handsome, funny, smart, dreamy and almost too perfect for me. The kind of guy I was dreaming for at that time. The kind of guy I pictured myself with rocking chairs and a cup of tea while conversing about random things on a cold summer night. But one thing I won't forget about you was how special you made me feel.
ADVERTISEMENT - CONTINUE READING BELOW
Those late night phone calls just talking about how our days had been, laughing about silly things, sharing cheesy conversations, and even falling asleep with our phones still lingering on top of our ears. Hoping that maybe even in the deepest parts of our sleep, we can still listen to each other's sweet voices. Waking up in the morning to the sound of your voice like the smell of freshly brewed coffee which was enough to brighten up my day ahead and put a smile on my face.
Those were the better days. Until one day, it's like a storm hit you and you just forgot all about me and the way we used to be. One thing lead to another and I'm stuck here waiting, my phone glued to my hand hoping that maybe you'd change your mind and call me back but you never did. You shut me down so easily like you never even shed a single affection for me. I was ashamed of myself though, because I'd shed a thousand and even a million just to make you happy but you never even gave me a chance. You just left me hanging and I was a fool to hold on for so long. Truth is, there is still a tiny part of my heart that wishes you'd come back and make everything better for me again because you are the only person I could ever think of that can make things better for me. Even though you're the sole reason of my misery in the first place. How ironic.
Bottomline is, you changed me. You changed everything. Before, I could hear my heart pounding through my chest just thinking about you but now it's dead silent. Before, I could feel butterflies in my stomach whenever you'd talk to me but now it's as empty as it can be. And before, I used to believe that forever existed but now I don't think I can even last a single day. You changed me. You changed everything.
But you know what? Despite the pain and misery that you've inflicted me, I still managed to put a stop to this ball of anger building up inside of me. Everything is still to painful for me but I'm still in love with you so I'm going to forgive you. I am going to forgive you for making me suffer the pain of being in love, for drowning me with a sea of questions and what ifs, and for making me believe the impossible conclusion that there's a possibility of future between us.
There are still a million questions floating inside my mind and I would trade anything just to hear you answer them all. But of course, it would never happen. It's just like creating a whole new world in my mind to escape the pain of my reality. Just hoping for the best and not expecting for the worst. A dream of the impossible perfection.
But that's just how life is. I'll just accept the fact that you don't always get what you want and it's better to be with the no one than to be with the wrong person. And maybe there's a reason why you came into my life and changed me. Maybe I was meant to be changed so I can start with something new. What's important is that I get everything all out of my heart, free all the pain and misery and all the words that has been held on for so long.
ADVERTISEMENT - CONTINUE READING BELOW
And before I end this, I want you to know that I have forgiven you and I hope that you forgive me too for writing my last letter to you.
Sent in by Alyanna Alvarez. Got your own story to tell? Drop us an email at candymagazine @gmail.com! We'd love to hear what you have to say. If you're lucky, you just might get published in this space, too! Please indicate if you want to remain anonymous. We're also looking for artwork and illustrations to use with the stories, so please send some in if you want to be featured!