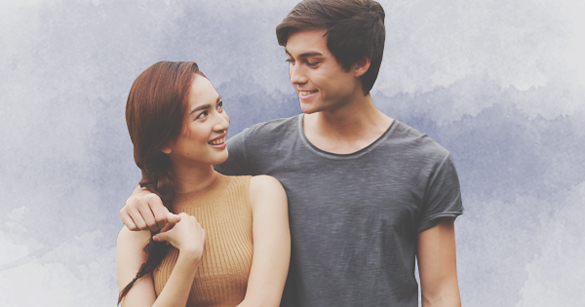 It's both exhilarating and drastically terrifying at the same time, right? It cuts down to your spine and weak fragments,. But deep down inside, you know you love it.
You feel that every word he speaks sparks a thousand miles of cities yet to be known. Every text message you get from morning 'til midnight absolutely brings you joy that you feel like you want to store his words forever in your chest, so you can read everything again any time. No matter how much you cringe about it, you always find yourself telling your friends that this guy always says the right words, even if they sometimes tend to tell you he's not. You feel honored, enchanted, special, and you don't even know why. You don't know where your feeling has been actually leading you. You feel like every story he narrates to you—from childhood frustrations to pop culture views—can be written into a perfect song with an aim to lull you to sleep, and the tone in his voice strum so strong back at your timid little heart, slowly inviting you to plunge into the greatness of this ever-so mysterious romance.
ADVERTISEMENT - CONTINUE READING BELOW
READ: This Is How You Can Tell You're Finally Over Someone

ADVERTISEMENT - CONTINUE READING BELOW
You see the grand of his being despite his weaknesses like catching the sunlight peeking behind gloomy clouds. You may or may not know why you're emotionally attached to him, but you certainly know that you just really, really want him. Need, even. You see a full-length movie being played whenever his palms meet yours, and when your eyes meet in a way like how May meets June. You see the both of you in different places; maybe these are certain spots you desire to visit with him. The idea of wandering off to a world of unfamiliarity excites you that you'll actually be listing your wishes down on the back page of your Math notebook. Eventually, you'll draw heart doodles on those graphing papers, or maybe write your name beside his.
You read more romance poetry and you think of him, only him. You listen to love songs and again. Him with the enchanting smile and messed up hair will just come into the picture. You check his profile to find out the things he likes and the people he looks up to. You attempt to make a conclusion about his personality based on these details.
ADVERTISEMENT - CONTINUE READING BELOW
Your reveries are now infected by him.
Are you willing to continue? I bet you do. Because then again, it's both exhilarating and drastically terrifying, and you'll choose to take the risk at any day.
But here's the truth: Don't put everything into it.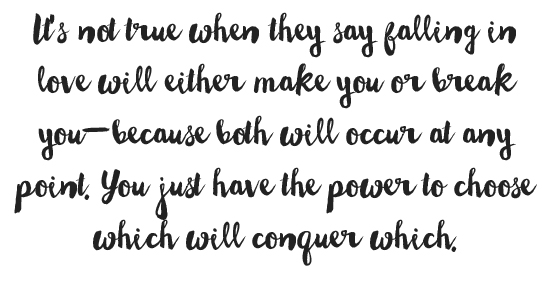 ADVERTISEMENT - CONTINUE READING BELOW
Don't drown yourself in self-hate when you catch him liking another girl's profile picture or when you hear him complimenting the musical prowess of a popular girl in one of his classes. Don't let your day be ruined if by the time you wake up, there isn't a message from him waiting there for you to answer, or if he fails to order your favorite milk tea flavor. Don't expect him to dress up his words like those of a fictional character's or assume him to answer every call you make especially if he's out with the guys. Don't preoccupy yourself with sadness just because this person forgets to tell you good night. Don't ever lose hope in love. Most of all, don't let the whole idea of love become so horrifying to you just because of a single guy who fails to reciprocate.
READ: This Is How I Will Love You

ADVERTISEMENT - CONTINUE READING BELOW
Here's the truth: It might not end up well, and that's okay.
This is a great feeling you'll remember for the rest of your lifetime, and although you may not get lucky at your first time, it is absolutely fine. You will get there when dearest fate's choice finally comes. Write your story. Let it make you feel alive. Don't hate romance, you young lovely creature. There are still a lot of places to go.
It's not true when they say falling in love will either make you or break you—because both will occur at any point. You just have the power to choose which will conquer which.
Jelou O. Galang blogs at ajelouishnarration.tumblr.com. Got your own story to tell? Drop us an email at candymagazine @gmail.com! We'd love to hear what you have to say. If you're lucky, you just might get published in this space, too! Please indicate if you want to remain anonymous. We're also looking for artwork and illustrations to use with the stories, so please send some in if you want to be featured!
ADVERTISEMENT - CONTINUE READING BELOW