"But I always wonder why your happiness can't make me happy."
To the boy who made me feel like I can never be good enough, this one's for you. Here's to the nights I spent drowning in words I didn't dare to say. Here's a choice that took me a lot of courage to make because I know it'll hurt like hell.
Here's how I mend, how it opens at the close.
Do you remember the first time you read your favorite book and then suddenly you just couldn't get over with the poems, songs and chapters, that no matter how unpredictable and tragic they were, they still appeared perfect for you? A few days after, you realized that you needed to get over it and find a new one to read so that's what you did. You chose something else, hoping that this new one will give you the same journey you had with your favorite book. But guess what? It didn't. No matter how many fandoms you join, how many fan fiction you become obsessed with, you always find the book clutched in your hand. In the daylight you have the new books laid on your table but at midnight all you're searching for your favorite, the one that hit you real hard in your chest, the one you can never get over. Do you remember the night you asked yourself why you're so attached to it? I know you felt silly for wanting so much more because you knew it was utterly impossible to happen. Why am I saying these things? Because that is how I loved you. You were—still are—my favorite book. The one that I thought I could move on from, the path I always find myself running to, and the one I always search for. You know that no matter how many distractions I tried to focus on, I just end up being drawn to you every single time. You are that book I need to close, the addiction I have to quit, and the exception I need to erase.
ADVERTISEMENT - CONTINUE READING BELOW
So here's how I mend, the start of an I-hate-it letter:
I hate it. I hate the way I crave for your attention so much. I hate the way I see you every day in little things you like. I hate the way I remember you at my happiest and even at my most destructive nights. I hate the way you stick to my brain, like a song I used to like but don't want to hear anymore. And most importantly, I hate the way I blame myself just for loving you with all the best of me.
Here's how I mend, the start of an apology letter:
Sorry for all the love I was willing to give, but you didn't need. Sorry for all the drama, for making you think that I'm just romanticizing pain. Sorry if you think all of this is just one hell of a joke or just a product of overreaction. Sorry, I don't want these feelings either. I don't want this love to consume me anymore. Sorry for all the words I didn't mean to say. Really, I'm sorry. I know that it's my fault that I got so attached you and you have nothing to do with that. I really hope you understand.
Here's how I mend, the start of a thank you letter:
Thanks to you, I experienced what it's like to have a broken heart. Thanks for all the heartbreak, the pain, and the tears. I learned to deal with those for God knows how many years. No, really, thank you. This is not me being sarcastic but me being thankful. Loving you had been the most exquisite form of self-destruction, but it also had been a form of self-recovery. Thank you for all the little memories I'll keep forever—the tiny glances, the small talk, the shared laughter.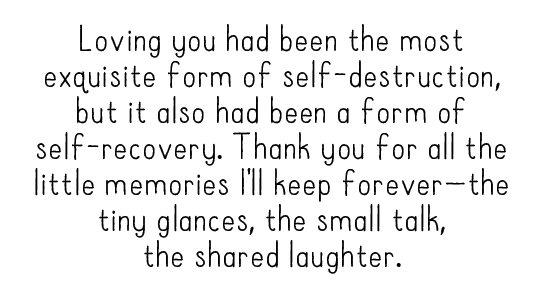 To the boy who also made me realized that I am already good enough, this is how I mend: The beginning of an end. I need to stop writing about you for through poems and metaphors, your name relives all the pain. Through words,I cut my wrists. Through words, I burn my veins. You don't deserve this kind of power over me anymore. You were my first-before-anything-else. "Your happiness before mine," but I always wondered why your happiness couldn't make me happy. Caring about you is not even my responsibility from the very start, it's hers. So I need to stop writing now. I'm not saying goodbye, not really. But this is how i mend, this is how it opens at the close.
Sent in by Abigael. Got your own story to tell? Drop us an email at candymagazine @gmail.com! We'd love to hear what you have to say. If you're lucky, you just might get published in this space, too! Please indicate if you want to remain anonymous. We're also looking for artwork and illustrations to use with the stories, so please send some in if you want to be featured!
ADVERTISEMENT - CONTINUE READING BELOW