We are reckless and why wouldn't we be when we are both young and always seeking to be each other's happiness. In a span of a year, you changed my life. In a span of a year, you became my life. We built-in our walls around ourselves with our promises and dreams that someday things will be easy. Someday we won't travel 4 hours just to be with eachother for an hour. Someday we won't sneak out just to ease that pain you have when you miss someone so much. To quote Oasis, there are many things that I would like to say to you but I don't know how. And it's funny how I can share everything and anything with you but this, this is everything I 'm afraid to say and I don't know why.
Thank you for sharing your favorite band with me. Issues' Disappear will always have a special place in my heart. Thank you for the countless fun nights we spent, for a lot of midnight memories we created. Thank you for letting me photograph you most of the time, I just want to savor the moment and when I look at a certain photograph of you it'll remind me of how I feel whenever I took it. Thank you for being my ride-or-die buddy no matter what the odds may come our way. Thank you for being such a blessing when I least expected to receive one. Thank you for sticking up for me no matter what my views on things go. Thank you for showing me that I can meet my true love in such age and environment. Thank you for loving me.
ADVERTISEMENT - CONTINUE READING BELOW
I could and I would go on thanking you for a million other things you brought to my life.. But I'm sorry I left you hanging. I'm sorry I say sorry a bunch of times it may come off insincere. I'm sorry for forcing you to listen to Halsey. I'm sorry for being mad at you when you were just trying to be sweet. I'm sorry I'm a mess and I'm sorry I messed everything up.
READ: A World of Possibilities
I'm sorry I tend to act like the victim in our relationship when in reality, I'm the poison who's making it toxic. I'm sorry I'm so insecure and stubborn. These may not be exactly everything I didn't say but there's something I wish I didn't say and I wish I could take it back. I badly want to take it back, I never wanted to leave you. I never wanted those things to come off my mouth. I don't ever want to see you with someone better, I wouldn't appreciate that kind of sight. I don't even know where and how to start my every day now that I won't be waking up searching for my phone and start my day with your "good morning." I don't know how I can walk around a certain place without thinking about you because everything seems to remind me of you.
The rain, our chair in the kitchen, the color blue, a carinderia near the mall and everything in between. I kept telling myself to give it time and it'll be back to normal and then it struck me that I can't remember what normal is without you. You will always have a piece of my heart and I don't even think anyone could take that huge part you got. Now, I'm stuck to listening to songs that can help me get through each day. I'll miss you, I will always miss you. I can never forget the way my name rolls off your tongue, the way your eyes smile when I give you donuts, the way you style your hair, the way you touch my chin when we're fighting, the way your kiss lingers on my forehead.. I can never forget someone I love so much. I can never forget you. My love for you will always be here.
ADVERTISEMENT - CONTINUE READING BELOW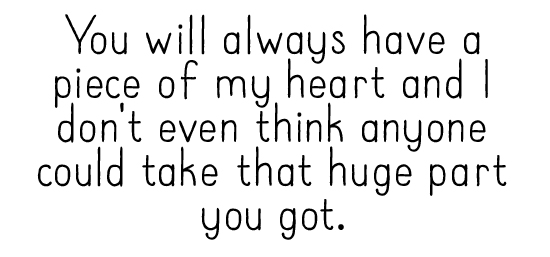 READ: I Want Him to Be the Prince Charming of My Own Fairy Tale
In the midst of writing this, I realized that those are everything I didn't say and can't say because I just want you to receive happiness I can never give and I can't let you choose a white crayon to use on your canvas.
Sent in by Khely Dwale. Got your own story to tell? Drop us an email at candymagazine @gmail.com! We'd love to hear what you have to say. If you're lucky, you just might get published in this space, too! Please indicate if you want to remain anonymous. We're also looking for artwork and illustrations to use with the stories, so please send some in if you want to be featured!

ADVERTISEMENT - CONTINUE READING BELOW