Hello there, it's me.
You never knew, but you lifted me from the dark place I used to find comfort in. You never knew but slowly, you pulled me out of the shadows and brought me into the light. You taught me how to open my eyes to the sun without letting it blind me. Your hand pulled mine into the graveyard of my hopes and dreams, plowing seeds into its barren plains. And there, you grew sunflowers.
You couldn't have been Superman. He wore a cape; you wore scarves. You couldn't have been an angel. They were bathed in white light; you were clothed in black. I found comfort and peace in your company. I found solitude and learned how to smile again through the songs we shared. Maybe that's why the music still haunts me.
When I met you, I hated your guts. I learned to love your candor. I didn't expect you to open up to me the way you did. When I fell in love with you, I figured you couldn't be my Knight in Shining Armor. I realized you would have wanted me to be a better version of myself. You were the puppeteer and it was my strings you found. You pulled them up, to help me stand. You tugged them forward, to teach me how to walk again.
ADVERTISEMENT - CONTINUE READING BELOW
What we had was different, special. So I'd like to thank you for the good times—for the promise of looking for trouble together. For the shoulder you lent me to cry on, the arm you held out for me to hold. I'd also want to thank you for the hurt—when you eventually left and scooped her up in your arms when I was at the weakest point of my life. I guess, I always knew it still wasn't enough. There was never an "us" anyway (even though I wish for it every night).
You taught me how to laugh when I was supposed to break down in a corner and burst in tears. You taught me how to stand tall and try to forget the existence of someone I once loved. You taught me forgiveness. You taught me how to set a painting aside and pull out a new canvas. You taught me that what we had was stronger than what I had hoped. You taught me that even though I didn't want you to, you still care. You taught me that pizza can brighten up even the dullest hospital room. You taught me acceptance. To accept that she would be there waiting for you outside the door.
ADVERTISEMENT - CONTINUE READING BELOW
READ: A World of Possibilities
You taught me that I can always go back to where I was—the comfort of the dark. I hesitated as I took my last step to it because of you. But I reminded myself that you ruined me anyway. So as the shadows crept, I let them wind up around me. I let them bury me deeper into the ground than when you found me. This time, even you can't save me because you also taught me that the one who picked up the pieces but broke me can't be the one to fix me again.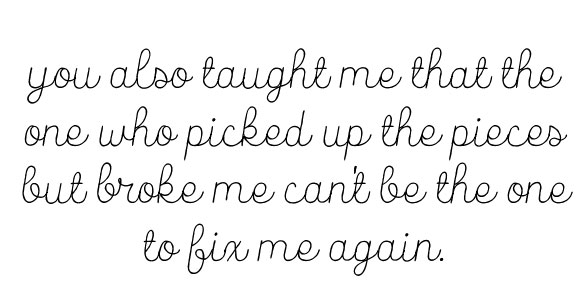 ADVERTISEMENT - CONTINUE READING BELOW
Sent in anonymously. Got your own story to tell? Drop us an email at candymagazine @gmail.com! We'd love to hear what you have to say. If you're lucky, you just might get published in this space, too! Please indicate if you want to remain anonymous. We're also looking for artwork and illustrations to use with the stories, so please send some in if you want to be featured!