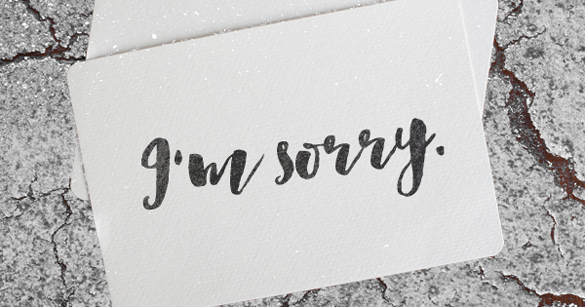 "I'm sorry."
For leaving you without reason. For the countless times I broke up with you and wanted you back. For the times I took you for granted. For lying about sleeping when in fact I was out with the boys. For not being there for you when you had cramps. For not watching the chic flicks you loved. For not listening to your problems no matter how nonsense they might seem to be. For breaking my promises. For never being enough. For not loving you enough nor valuing you enough.
"I hope that..." You Find happiness. You Find solace. You Find love. You Find hope. Move on and never look back. Love yourself first before you love others. Find the right one, cause I could never be suitable for you. Reach the stars. Travel the places you've always wanted to go. Do things you've wanted to do. Can be yourself and never change.
"I did." I did care. I did worry about whenever you're out with other guys. I did get jealous that one time, okay maybe a few times. I did love the way your eyes shine. I did want to comfort you when you and your bestfriend had a fight. I did want to protect you. I did... I did love you.
***
"Thank you."
For staying with me all those years. For the times you still wanted me back even though we knew it was never going to work out anymore. For the times you appreciated me. For saying sorry the next day because you fell asleep texting me. For being honest in hating the chic flicks I made you watch. For listening to my problems no matter how nonsense they are. For trying to keep your promises. For being enough. For loving me enough and valuing me.
ADVERTISEMENT - CONTINUE READING BELOW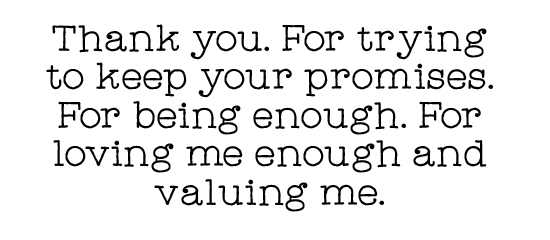 "I hope that..."
I find happiness. I find love. I find hope. But most importantly, I hope you are happy wherever you may be right now, and that she loves you like no one else has. I hope you love her and cherish her and never ever leave her. I wish you happiness and love.
"I did..." I did try to understand why you left with no reason. I did try to pick the pieces up no matter how scattered they are. I did turn my life around when losing you, I lost track to where my destination was. I did find love. I did move on. I did forget... forget you.
Sent in by Christle Dave V. Beltran. Got your own story to tell? Drop us an email at candymagazine @gmail.com! We'd love to hear what you have to say. If you're lucky, you just might get published in this space, too! Please indicate if you want to remain anonymous. We're also looking for artwork and illustrations to use with the stories, so please send some in if you want to be featured!