Chances. Funny how I have lost so many chances.
Time. Crazy how I had time.
I was given so many chances to tell you what I feel for you. Chances to tell you that you always had a place in my heart and that you will always be that one person who would have an effect on me. I always thought I had time, time to gather all the courage to face you, time to actually let go of my fear and just confess everything.
READ: Choosing Love
Whenever I decided to talk to you, there would always be something that stopped me from doing so and I would always tell myself that maybe it was not the right timing and that there will always be a next time.
And now, it was quite ironic how on the day I felt the sudden urge to really face you was the day you left for another country and then that the "next time" was again pushed down the road. It left me wondering whether I missed my chance for the hundredth time. I asked myself why I didn't just go and tell you. Believe me when I say that when I heard that you left, I felt this overwhelming sadness that I knew had always been there. I guess I was a fool for allowing myself to be caught up with the fact that our time will come soon.
ADVERTISEMENT - CONTINUE READING BELOW
ADVERTISEMENT - CONTINUE READING BELOW
READ: I'll Stop Trying If You Don't Want Me Anymore
Then, I realized maybe it was still not the right time to say the words I needed to say. That maybe, there's still another plan that's unknown. All I know is that we're not yet there.
Maybe it's for the best, being far away from each other. With us miles apart, I get to go out of the world that I was stuck in, the world where I was so consumed with my feelings for you. I also realized that when we're not in the same place, I don't think of you as much as I used to. I don't expect too much anymore because seeing you or running into you on the streets or in special events is now impossible.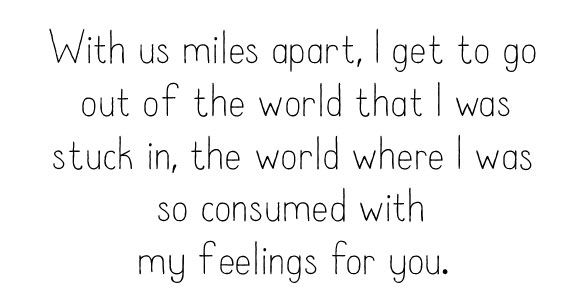 ADVERTISEMENT - CONTINUE READING BELOW
READ: To the One I'm Finally Letting Go Of
If you only knew that I was here writing these letters to you, things would have been easier. But maybe for now, I have to let go and close your chapter and I need to start a new one. The chapter where you and I are far apart. I wish you all the best though. I know you'll do great in everything. One day—someday—I know we will see each other again. And by then, we'll be who we always dreamt to be. We'll talk about our past with no hesitations and I'm sure, it'll be a great laugh.
But for now, I guess, this is my "goodbye" to you.
Sent in by Jamie V. Got your own story to tell? Drop us an email at candymagazine @gmail.com! We'd love to hear what you have to say. If you're lucky, you just might get published in this space, too! Please indicate if you want to remain anonymous. We're also looking for artwork and illustrations to use with the stories, so please send some in if you want to be featured!
ADVERTISEMENT - CONTINUE READING BELOW