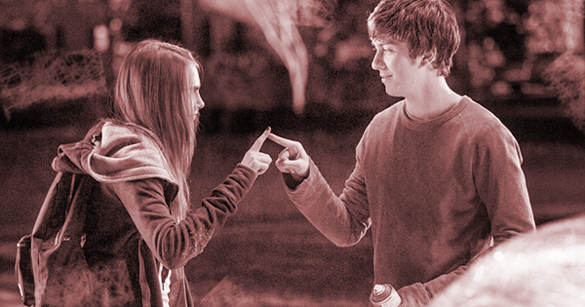 Sometimes people walk into your life and then nothing is ever the same. You were one of those people to me. When you and I met, I knew. I knew that we, in some kind of weird way, connected with each other. We just hit it off straight off the bat. Partners in crime. We spent so much time together, people started thinking we liked each other. Back then, what I felt for you was completely platonic. I'd tell all our friends for the nth time that, "No, I don't have feelings for her. That would be weird." Or when the teasing became too much, "Stop it, you're making me feel uncomfortable." But maybe I did like you even then. When I was with you and felt happier than I ever did. I should have known. Maybe it was the fact that you were in a relationship that stopped me from entertaining my feelings for you. But as time passed by, we grew distant. No more running together along the hallways, no more talks about how our day went, no more eye contact, no more inside jokes, no more anything. I would've done anything at the drop of a hat to get back what we used to have. Whatever that was.
ADVERTISEMENT - CONTINUE READING BELOW
ADVERTISEMENT - CONTINUE READING BELOW
READ: An Open Letter to the Girl Who Fell for Her Best Friend's Ex
Fast forward a few months after, we were talking again. It wasn't like how it used to be but that was okay. I've gone through enough to know that we can never have the same thing twice. And really that was okay. I missed you but it was okay. It was okay. We were making progress. But of course, life always finds a way to mess things up. It was a normal sunny afternoon when I patted my friend on the shoulder and told her I think I liked you. I told you I liked someone and you blew up my phone asking who she was. Long story short, you found out I liked you and I found out you liked me. You hid it from me for so long. You told me you still felt something for me, but they were not as strong as it was before. And although that stung, it was okay. Sometimes I think my life is just a big okay.
ADVERTISEMENT - CONTINUE READING BELOW
You made it clear that you weren't ready for a relationship and I understood where you were coming from. I should have stopped talking to you when those words were said, but I didn't. We sent each other text messages every day and talked about the most random stuff ever. And I actually felt closer to you. I was happy. But we can never really be just friends with someone we like, can we? The ball was in your court. I wanted something else but I knew deep, deep, down that we were never going to happen. With how you are, it was impossible. I'm not blaming you, I promise.
READ: Why the Friend Zone Is Not So Bad—In Fact, It's Pretty Cool
Our "thing" went on for a few months. Until an afternoon chat ended everything. You didn't feel anything anymore. I was sad but it was okay. I had to man up and accept it. We were friends but we didn't talk every day anymore. That was probably the worst. I felt lost for a while because I didn't have anyone to talk to. I was still getting used to not randomly texting you about this random thing I saw on the Internet. Or how hot Taylor Schilling is. It was okay. I was okay.
ADVERTISEMENT - CONTINUE READING BELOW

We're still friends who talk to each other occasionally. I guess this is how we will always be. In spite of the fact that it was only a few months, I want to thank you for the amazing ride. It was a pleasure getting to know you better. You're an amazing person and no one is going to strip that away from you. Thank you for all the infinite memories. And I quote, thank you for our little infinity.
ADVERTISEMENT - CONTINUE READING BELOW
Sent in by r.z. Got your own story to tell? Drop us an email at candymagazine @gmail.com! We'd love to hear what you have to say. If you're lucky, you just might get published in this space, too! Please indicate if you want to remain anonymous. We're also looking for artwork and illustrations to use with the stories, so please send some in if you want to be featured!