I'm a girl who constantly battles with herself when it comes to taking chances and showing the world what she can do. You're a guy who is extremely driven and grabs every opportunity that comes along the way. I've always admired your wonderful personality. And although we are two completely different people, we've managed to become good friends.
We were just good friends.
READ: Was It All Just Pretend?
Now, we've somehow found ourselves taking a risk, and it's as if everybody is eager to see us finally take a big step to the next level. But we both know that we're in a time of our lives where we should be prioritizing other things.
We both have goals and plans for ourselves and high hopes of accomplishing every single one of it. We're in our last year in college where everything seems so difficult to deal with. We both know that the decisions we make this time could make or break something that matters a lot to both of us- our own future.
ADVERTISEMENT - CONTINUE READING BELOW
READ: You Were Just a Phase
So then we've claimed our temporary spot in a place that everybody else seems to hate—somewhere in between.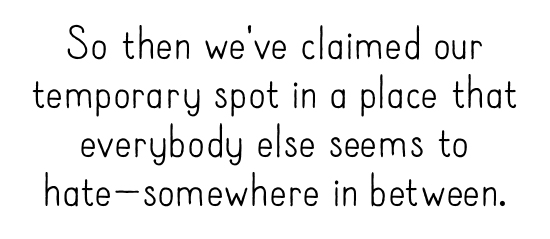 But I don't mind. I'm happy with what we have right here. Sure, it's not easy. Sometimes I tend to become anxious and scared that you might suddenly change your mind, but just hearing your voice and seeing you smile gives me the assurance that you're here to stay. There are times when you would become really busy with all of the things that you need to finish and we would barely talk, but please remember that seeing you achieve your dreams and goals matters a lot to me, and I would hate myself if I become a reason why you are unable to reach them.
ADVERTISEMENT - CONTINUE READING BELOW
READ: To the One I Never Had But Lost
I believe that there is a perfect time for us to leave this zone for an even happier place, but for now, we just have to hold on toand cherish every moment we have and will have here.
Sent in by Lariane Magno. Got your own story to tell? Drop us an email at candymagazine @gmail.com! We'd love to hear what you have to say. If you're lucky, you just might get published in this space, too! Please indicate if you want to remain anonymous. We're also looking for artwork and illustrations to use with the stories, so please send some in if you want to be featured!