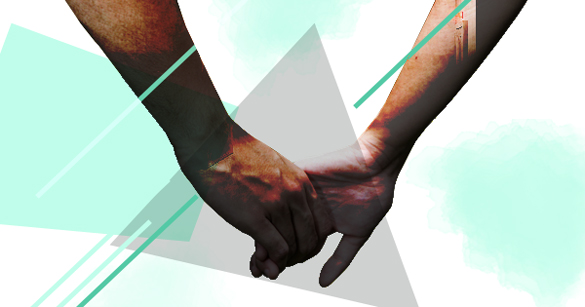 I have swung back and forth, wondering
Whether to hold on still or just let go
What we have is like an endless tunnel
Where it leads us is a blur, I really don't know
The waiting is absolutely tormenting.
It made me question love.
Ambivalent feeling, wishful thinking,
Waiting at the end of the crossroad,
Waiting, just waiting.
I've heard your voice over and over.
Then a glimpse of you made me want to stay longer.
Craving for you, impeccable love this is or so
Though the possibility of us clearly is vague,
We're a "yes" yet a "no."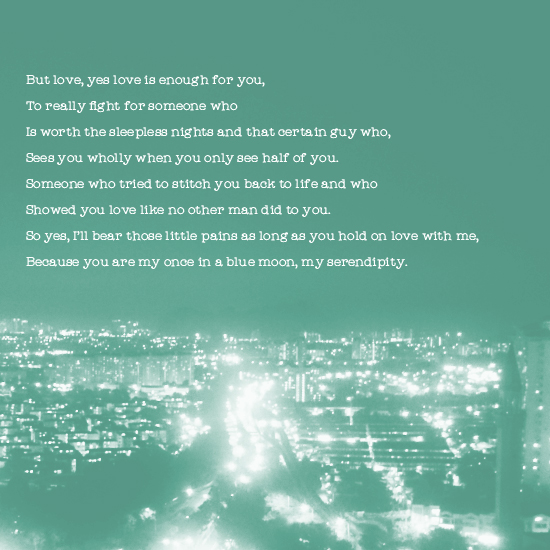 ADVERTISEMENT - CONTINUE READING BELOW
There's no use of escaping the you and me, not "us."
Tried to hide the love with loathing and hate
But every time I stay away careful and slow,
I'd recoil back to you so fast—too fast I can't go.
ADVERTISEMENT - CONTINUE READING BELOW
So I told myself, I surrender to love.
I'll just let it all hang out, no ifs, no buts,
Because love is anything you can't understand.
But I'll keep on wishing that someday we'll both find the answers
With your hand in my hand
They say don't let go of someone who
Makes you feel surreal, someone who
Makes you smile unknowingly, and who
Makes you want to stay even if there are no other reasons for you to.
But love, yes love is enough for you,
To really fight for someone who
Is worth the sleepless nights and that certain guy who,
Sees you wholly when you only see half of you.
Someone who tried to stitch you back to life and who
Showed you love like no other man did to you.
So yes, I'll bear those little pains as long as you hold on love with me,
Because you are my once in a blue moon, my serendipity.
ADVERTISEMENT - CONTINUE READING BELOW
Written by Cheri Cabaya. Got your own story to tell? Drop us an email at candymagazine @gmail.com! We'd love to hear what you have to say. If you're lucky, you just might get published in this space, too! Please indicate if you want to remain anonymous. We're also looking for artwork and illustrations to use with the stories, so please send some in if you want to be featured!