Features
From Our Readers: Science Cannot Possibly Explain Everything
Leave some love for yourself and do not hold any grudges.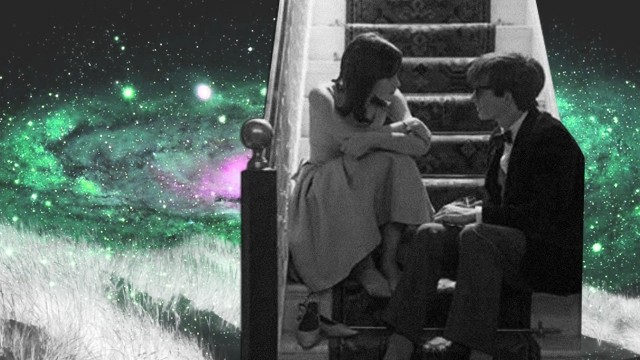 ART Trixie Ison
I wish Science could prove the tingling sensation you feel when you're with the person you love. These mysteries will remain mysteries because we know for a fact that not even the world's greatest scientists have acceptable hypotheses for these.
I, myself, a proud achiever and honor student, though learned and masterful of the sciences, couldn't even seem to explain the weaving of emotions I get when the boy I like notices me. I'll tell you an interesting story:
It was the beginning of the end.
Getting accepted to the country's top university was my long-time dream. Who wouldn't want to get into the University of the Philippines, right? It was a chance for me to make my mother and father proud of me. My parents had one condition before they gave me the permission to study college away from them: "Prioritize your academics." Of course my mindset was the same as theirs. I just couldn't let go of this crazy privilege; there was absolutely no room for screw-ups. 
Months into college, I was very stable. I was recruited by the best organizations, surrounded by the best set of friends, and trusted by most of my professors. You could say I was the perfect college girl...until he took over my life.
You could say I was the perfect college girl...until he took over my life.
He was far from the ordinary. He said the craziest things with passion and conviction. Some may say that his ideas were wild or absurd, but the reason why I always seemed to gravitate back towards him was his charisma. He's definitely handsome and intelligent. There was no reason for anyone to disrespect him. He knows how to carry himself—from clothes to socializing to academics. He was gold and definitely a smooth talker. He can talk you out into anything. Plus, his body was just 2% fat.
Of course I'm exaggerating.
Our "friendship" started on Facebook when he first messaged me. We were casual, yes, but there seemed to be a strong force of attraction between us since we had lots in common. Our ideals and principles in life were almost the same. We were two peas in a pod and everyone shipped us. In other words, we were a power "thing." I couldn't say couple because we weren't. (Ouch) I remember the moments that made me fall in love with him. You know those Tumblr goals, relationship goals, life goals? Yeah, we crossed everything off that list. We stayed up late until 
2AM
 over frappes, had movie dates together, and talked about the craziest things. We had absolute freedom since our parents were away.
This is where things get confusing.
That night, though under-appreciated by him, was special to me. Special in a way that it gave me the courage to trust him. Considering the fact that I am known for not easily trusting anyone, trusting him was a difficult challenge for me. In my own little world, trusting someone means loving someone. You cannot simply love someone without trusting him or trust someone without loving him. "Trust comes first before love," I always remind myself. Trust, to me, means love. I entrusted him with all of my deepest secrets—some of it my parents nor friends do not even know of. Those secrets do not only come in the form of words and whispers; they also come in passionate kisses as well. I entrusted him with a kiss that meant the world to me. I talked to God that maybe, just maybe, he was the one.
I stood corrected. After he got what he wanted, he left me hanging and days after (just days) I saw him with a new girl. He looked happy with her. Well, I hope he was also happy ignoring me and neglecting me, just plainly silent about our awkward first kiss. I don't know why he hid from me after that night. He made it seem like what we shared was illegal. It stings. A lot. He left me confused and unguarded. 
So we slowly faded from each other's memories and become ghosts in each other's pasts. The times we stared passionately into each other's eyes while the world fell away were gone. The times his eyes searched for my soul were forgotten. Maybe one day, I told myself, I will sip coffee while my children and I wait for my husband to return home, and I'll think about him, and how we used to be madly in love. That was my way of coping. I imagined things to ease the pain.
Two months later
, he messaged me. I was startled, but I still managed to calm myself. Anyway, I didn't hold any grudges. We caught up and he told me that the reason why he "backed off" of what we had was because our pacing was too fast and he wasn't ready to be serious with each other. It's okay. I respect that. He should be thankful that I'm not like any other girl who would be outraged and furious if she were to be in my situation. Despite the painful things he did to me, I don't know why I couldn't manage to get mad at him. A part of him was etched on my heart already. These forgiving feelings are difficult to explain—not even the great Albert Einstein nor Stephen Hawking could explain.
Mahal mo eh.
These forgiving feelings are difficult to explain—not even the great Albert Einstein nor Stephen Hawking could explain.
Lesson learned? Leave some love for yourself and do not hold any grudges. In that way, you could cope better. Don't get too attached to temporary things. To the first boy who broke my heart in college, I trust you still. I am always about you and only you.
ADVERTISEMENT - CONTINUE READING BELOW
CONTINUE READING BELOW
Recommended Videos
Sent in anonymously. Submit your feels!
"When I saw Jane, I said, she's special."
This fringe looks good on everyone, I promise!
It turns out, she was pregnant when she walked down the runway for various big-time designers.
"I was failing Interior Design and was so close to getting kicked out of UST, so English Language Studies was a lifeline. I took it."
Because we still can't get over Son Ye Jin and Hyun Bin's confirmed dating status!
Love anything with strawberry flavors?
They're proof that it's okay to follow your own timeline for success.
It's called going green on the internet.
The country might follow price increases in the US and other territories.
From The Candy Bulletin Community