If you're reading this letter, I reckon you didn't toss it off the moment it was handed to you and I thank you for that. You might be confused, annoyed, or might be in jest right now towards me and this letter. I wish to talk to you in person. I would really want that because I want this to be more realistic. I want to see you as you would get into what I have in mind. Nevertheless, I chose this medium because I'm better at writing my thoughts than saying them out loud.
I honestly don't know how you see me as a person right now, but I am writing every word with an inference that you would never want me in your life anymore. I might be wrong. However, my judgment is telling me that somehow, I'm on the right track. With this in mind, I call for your openheartedness as we move forward.
READ: You'll Forever Be My Favorite Secret
I'll start with I hate you. Yes, I hate you. As I write this letter, I still do. I hate you for putting me in one of my life's difficult situations that I never thought I could withstand. And I even hate you more that you left me in that situation, alone and helpless. I was confused with what was going on that time. I expected you to pull me off from that trail, but you even made it harder for me to fathom everything. I don't know if I should have drawn a line between cowardice and cruelty because you made me suffer both. You could have let me perceive things in the same manner as you did. You could have told me where I went wrong and granted me a chance to correct them. Because you made me feel that there was us, that everything was worth the time and effort, that if I let you down, what we had would serve as patches to cover my lapses. Instead, you let me drown in sorrow and vagueness. And I hate you that after what you did, I still have to end the day compelling myself to believe that it is rightful to hate you. For deep inside...
ADVERTISEMENT - CONTINUE READING BELOW
I miss you. I miss you that it hurts seeing you, hearing your voice, and even feeling your warmth from a distance. It's distressing that you literally closed your doors for me and made me feel like I'm a total stranger. I remember those times where I had to pretend that you were not on the same spot as I was just to contain the throbbing in my chest and the heavy breathing. I envy those people who can sit beside you, who can call your name, who can see a clear view of your face and get a better look at you. I wish we could live in our old photos. Those times where I can just simply reach for your face and watch your brown eyes glow as you smile , where I can just rub my skin unto you to feel your presence, where I can just hold your hand so that I'll be at ease knowing that you're beside me. With all these said, without a doubt...
I still love you. I'm sorry but I genuinely do. That short period of time that we shared together made me realize that I was capable of loving and being loved after my first heartbreak. And this entire time that you were away, this entire time that I've been yearning for you, it was a major turning point. No rush, I'll stay put. We will be taking different roads to different places. I hope that once our paths will come across, maybe... just maybe, you will be ready to embrace me back to your life again.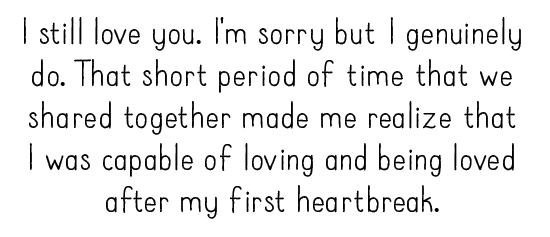 READ: I Wasn't Enough and I Don't Deserve Your Love
Sent in by IreneAdler. Got your own story to tell? Drop us an email at candymagazine @gmail.com! We'd love to hear what you have to say. If you're lucky, you just might get published in this space, too! Please indicate if you want to remain anonymous. We're also looking for artwork and illustrations to use with the stories, so please send some in if you want to be featured!