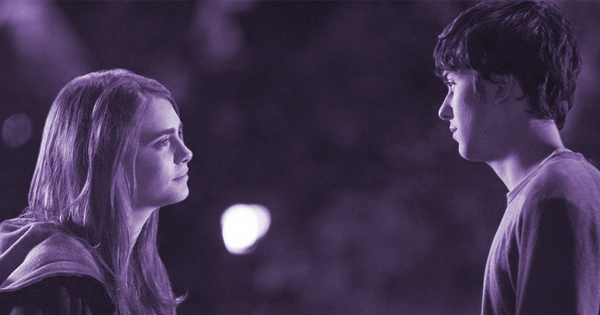 You will never be Miles Halter and I will never be Alaska Young. You are not fond of reading biographies. I am not a wild and emotionally unstable girl. You don't memorize lines of famous men. I am not a fan of cigarettes and alcohol. We do not attend a boarding school searching our very own Great Perhaps. We rather live a simple life. We enjoy the mini pleasures this world has to offer.
I will never be that mysterious girl who would keep you up late at night. You will never have an unrequited love for me. But I do, in between spaces and hushed tones, I do love you. Amidst the strong winds of that thunderstorm, I cry out my love for you. Unheard, overpowered, thrown behinds the bars of secrets, it was yet another futile attempt to reach you.
READ: Love Books and Harry Styles? This Twitter Account Is All You Need.
You will never be Colin Singleton and I will never be Lindsey Lee Wells. You aren't obsessed with languages and anagramming stuff. I am not that small town girl you would meet on a road trip. You aren't a genius. I am not a paramedic-in-training. You aren't looking for your missing piece for you know who you are. You never long to "matter" because you already do. You are that person who knows his own game. You are what girls wish for and what guys wanted to be. While I won't stand out in crowds and I don't have that worth the second look kind-of-face.
ADVERTISEMENT - CONTINUE READING BELOW
I am your plane Jane stuck in this big city. I would rather look at you in the farthest of places, admiring your perfectly sculpted face. I love you beyond the depths of my universe but it will never reach your galaxy. As I watch the sun set down, I look up at the stars, trace your face and there I see the how much of a dream you would ever be.
You will never be Q Jacobsen and I will never be Margo Roth Spiegelman. You are not a quirky, nerdy guy. I am not the most popular girl in school. You don't hang out with the band geeks. I don't have a popular jock boyfriend. You 'overthink things. I am not the adventurous type. We won't be together seeking revenge to people who did harm to us on a late Saturday night. We won't be building our very own paper town for we are contented in the world we live in.
READ: Reality Check: Moments in Books that Don't Happen in Real Life
I will never run away from the harsh reality of who you are and who I am. I know that you will never come running down every road looking for me. For in this lifetime, you are that one wish upon a star, that somewhere over the rainbow, that summer paradise. You are that one special person my heart beats for. The reason for every waking up with a smile on my face and the very inspiration of my entire existence. Everyone has their miracle and you are mine. But I will never be that miracle for you.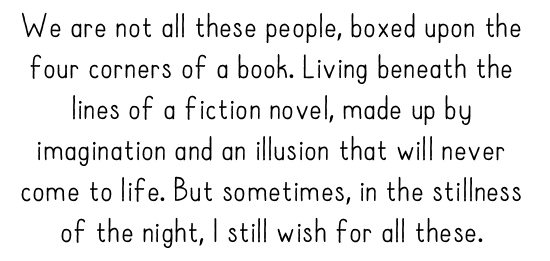 ADVERTISEMENT - CONTINUE READING BELOW
You will never be Augustus Waters and I will never be Hazel Grace. We don't attend support groups but you surely caught my attention the first time you walk into the room that orientation day. You walk confidently to your seat alongside your friends. I took a glimpse and was mesmerized by you. That very moment I know, heaven has dawned earth with its goodness. From then on, I know you would be someone special.
But unlike Hazel Grace and Gus, we didn't talk to each other. You never even glanced at me. I will never be part of your world as you have been to mine. We will never be close enough to be called acquaintances. I was that out of your zone. I know that you won't take your time to read my favorite book just to get my fascination. I know that if you will have your last dying wish, you won't spend it to take me to Amsterdam and meet the author of my favourite book. You won't take me out on a date and kiss me inside Anne Frank's house. Who am I that you would go through all the trouble to do these for me?
ADVERTISEMENT - CONTINUE READING BELOW
Okay will never be our always. And our infinity is the smallest of them all, existing within seconds, almost unnoticed and invisible. But I am still grateful to you even if you never gave me forever. You may not be the perfect prince charming who would sweep me off of my feet but you surely made me fall. I love you present tense and though this is a shout in the void which would cut me the deepest, in the end I can't choose if I will get hurt in this lifetime, but I do have a say on who hurts me. I chose to fall for you and it's my privilege to have my heart be broken by you.
We are not all these people, boxed upon the four corners of a book. Living beneath the lines of a fiction novel, made up by imagination and an illusion that will never come to life. But sometimes, in the stillness of the night, I still wish for all these.
ADVERTISEMENT - CONTINUE READING BELOW
I still wish for an "us."
I still wish for you.
I still wish.
I do.
Sent in by Hannah Joy Alincastre. Got your own story to tell? Drop us an email at candymagazine @gmail.com! We'd love to hear what you have to say. If you're lucky, you just might get published in this space, too! Please indicate if you want to remain anonymous. We're also looking for artwork and illustrations to use with the stories, so please send some in if you want to be featured!