A king with a princess is so much better to look at than a king and a prince.
Like in all fairytale stories, it's nice to see how close Cinderella is with her dad. Also Ariel, Pocahontas and even Merida of Brave.
But my life is not a fairytale; I'm not my daddy's princess.
I can still remember how I called my dad and asked for a bike on my 5th birthday.
I was a little kid back then when I would always get what I want because I'm the eldest, and my dad said he is my genie.
But that was before.
READ: What It's Like to Grow Up Without a Dad
Daddy is a soldier, and has always been assigned to stay somewhere (Cotabato city) before so we would only see him for a week or two in a month. And when he's home, he would always make time to play with me, brush my hair, feed me and tell stories. I actually learned how to sing because of him. We had our videoke back then and he would always make me sing. I even had my voice lesson because he said I have a big potential in singing and I should practice it. he was like my number one fan and my main supporter.
ADVERTISEMENT - CONTINUE READING BELOW
Every day was just a happy day when he's around. He's not just an army guy or a dad to me, he was like my superhero.
But year 2005 is when my little sister was diagnosed with "acute lymphocytic leukemia" or known as cancer of the blood. It was the toughest. My mom stopped working, my big sisters stopped school and we even had to sell our house and move to a smaller one just to sustain her chemos and medications. It had been a very hard time for the family that I would always see my dad cry, but God is good. My sister survived and eventually, we were able to get our normal happy life back.
READ: 10 Bonding Activities You Can Do with Your Dad
After three years, my dad was chosen to become one of the United Peacekeepers who would stay at Liberia, South Africa for half a year. It's pretty far and I can still remember how I told myself it was okay, and that he's always been away anyway. That I'm used to it and I'll just have to wait for him.
ADVERTISEMENT - CONTINUE READING BELOW
When he came back, he was never the same.
One day after school, I saw him yelling at my mom. They were fighting, so hard that my mom bump her head on the wardrobe, crying. I was super shocked so I ran to her to hug her and I was crying at that time too. Without any explanations, my dad went out of the room. and that was the first time I started hating him.
One night when me and my sisters were about to sleep, I overheard my mom's voice from outside our room. Curious, I creeped to the door so that I can hear it clearly, there she said, "so what's your plan? Are you serious with that girl? She's the third. Do you really want me to leave you and your kids?"
READ: Who Are Your Favorite TV Dads?
I don't know how to react or what to do at that moment so I just ran to my bed and tried to sleep.
ADVERTISEMENT - CONTINUE READING BELOW
In the morning, I was still thinking about what my mom said from last night so I kept looking at my dad while I was eating my breakfast. I could see it in his eyes how uncomfortable he is, thinking hard while he constantly looked at his phone. He seemed to be texting someone so as soon as he was gone, I went to get his phone to check, and I wasn't mistaken.
"I don't want to ruin your family. I'm sorry. I'll stay away from now on." Is what the text says. It was my dad's mistress. Afraid of getting caught, I put back the phone and marked the message as unread and continued eating, tried to act as normal as I could, as if I hadn't done anything. As if I still don't know how unfaithful he is to my mom.
And instead of telling my mom about it, I kept it to myself, like I know something so big and controversial it could kill a person. So I didn't tell a soul and continued hating my father even more.
ADVERTISEMENT - CONTINUE READING BELOW
From then on, I realized that everything I knew about my dad has changed. That he wasn't my superhero anymore.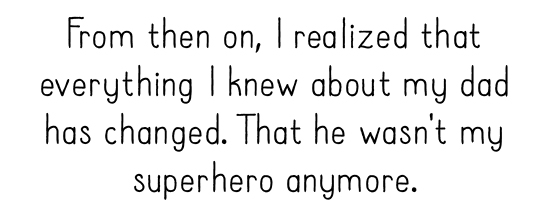 READ: 3 Relationship Lessons From Leah's Dad That We Should Keep In Mind
As the years passed, my hate has just been growing bigger with me.
But I'm a pretty nice girl. Though I was never as close to him like before anymore, I tried to be the good girl who seemed to be raised properly and decently by her parents, even if I knew in my heart it was just my mom and my sisters who taught me how to be one. I didn't turn out to be one of those rebels and disrespectful daughters, as I supposed is what I should've ended up being since I'm not close with my dad. But I'm not.
ADVERTISEMENT - CONTINUE READING BELOW
And even if I always try to be the good daughter, when it comes to my dad, it would always feel like he never notices my efforts. Never have I ever learned how to smoke or get drunk. I don't do party, I go home early, my grades aren't low and I'm studying in an excellent university.
Even though, my dad would still yell at me at times and tell me how unfortunate he is to have a daughter like me.
READ: What We Learned From Dad
How he told my mom the reason he doesn't pay for school is because he knows that when he gets old, I won't even take care of him anyway.
How could he? He's my dad.
It's sad when I try to think about how close we once were. Maybe I do hate him, but there's no way on earth I could undo the fact that I'm his child. That I'm still hoping he could still be my hero in any way. I hope he knows that.
ADVERTISEMENT - CONTINUE READING BELOW
Sent in by Lyka Mae Angot. Got your own story to tell? Drop us an email at candymagazine @gmail.com! We'd love to hear what you have to say. If you're lucky, you just might get published in this space, too! Please indicate if you want to remain anonymous. We're also looking for artwork and illustrations to use with the stories, so please send some in if you want to be featured!