"I really have to leave. I'm sorry. It's late and my friend's waiting for me back at the hotel."
"Really? But it's your second to the last night in Bali," Chris tried to convince me. "Besides, we just met."
"I know but I have to leave. Goodnight. It was nice meeting you." As much as I wanted to stay, I couldn't. I was in the middle of a crowd I barely even know. It just so happened that my friend didn't like partying so I had to stay late on my own.
Tomorrow is another day though—my last day in this beautiful paradise. Can we stretch minutes into hours? I really wish we could.
The next day, my sleep was interrupted. I woke up at 5am and nudged myself to go back to bed. The bad news was I couldn't!
My phone beeped and guess what? It's Chris, the guy from last night, greeting me good morning. How timely!
ADVERTISEMENT - CONTINUE READING BELOW
Me: Good morning too.
Chris: Why are you up so early?
Me: Sleep interrupted.
Then I figured since it's my last day in Bali, I might as well go for a morning walk at the beach. I stood from my bed and tried to convince my roommate to come with me. She managed to reply, "Still sleepy."
Chris: What are your plans for the day?
Me: None yet. Except thinking of going for a morning walk at the beach.
Chris: Okay, I'll see you in 15 minutes.
I was like, what? I wasn't asking him to come with me but thought, I could use some company.
Me: Okay, where do we meet?
Chris: Where the beachwalk starts.
Me: Ok. I hope I see you.
Okay, so do I go at the far end of the beach? Whatever, I'm sure we'll find each other. I hailed a cab and told the driver, "To the beach please but go to where the beachwalk starts."
"Oh beachwalk. Okay," the driver said.
After ten minutes, the driver pulled over at this place called Beachwalk Shopping Center. I was confused. Where are we supposed to meet really? He said "where the beachwalk starts." So do I go to the shore or stay at this Beachwalk Shopping Center? I wasn't at the hotel so I didn't have Wi-Fi connection. I had to trust my instincts and keep my eyes fixated, making sure I didn't miss seeing him.
I stayed for five minutes but still no sign of him. I guess I needed to start walking. For twenty minutes, I walked the entire stretch of the beach, looking lost than I ever was. "Holy crap! So is this the way I'm supposed to spend my last full morning in Bali? What's the point of us both waking up at the same time when we won't even meet?"
Indonesian surfers had that worried look on their faces, "Are you okay?" They asked. I probably looked like I didn't know where I was going because to be honest, I didn't. After reaching the far end, I still couldn't find him.
ADVERTISEMENT - CONTINUE READING BELOW
I guess it was time for me to go back. Maybe, we won't see each other again. But somewhere in the middle of a beautiful nowhere, I was hoping I'd find him.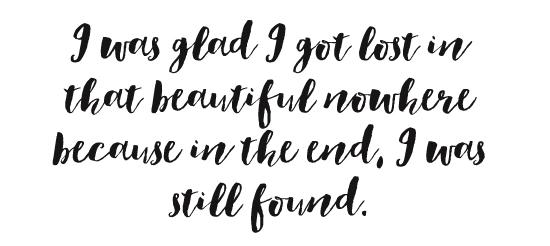 I decided to just grab a quick breakfast at McDonald's before heading back to the hotel. Luckily though, there's Wi-Fi.
ADVERTISEMENT - CONTINUE READING BELOW
There's a WhatsApp notification.
Chris: Hey, I was there. I'm back at the camp now.
Me: Where were you exactly? I'm still here at McDonald's.
Chris: I was at Beachwalk. I went around with my scooter, trying to look for you. But you weren't there :(
Me: You mean Beachwalk Shopping Center? I got confused because you said where the beachwalk starts.
Chris: Beachwalk is the street where the mall is.
Me: I didn't know! What a way to spend my last day in Bali.
Chris: You want to meet for breakfast instead? I'll go back.
Me: Really? Yeah, why not?
Chris: Be there in 15 minutes. I hope I see you :)
After 15 minutes, he arrived. I think my face lit up like a little child. You know that feeling when you see your favorite friend? That's how I felt. We laughed at how frantic we both were when we couldn't find each other. More than anything, we talked not over a bottle of Bintang beer but this time, over a cup of coffee.
ADVERTISEMENT - CONTINUE READING BELOW
He told me about his life as a surfer in Bali and how amazing the past eight months were for him.
"Hey, I need to go back to the hotel now. It's almost 10am and I don't want my friend to hate me," I said.
"How are you going to go back there?" He asked.
"I'll take the cab," I replied.
"Nope. I'll drop you off with my scooter."
The idea of riding a scooter with a German guy in the outskirts of Bali sounded fun to me so I said yes. These are the moments you have to be thankful for—the spontaneous and reckless decisions you make in a place where you barely know anyone. A lot could have gone wrong that morning but for once in my life, I let my guard down. I trusted a total stranger. Seriously, how many times can you do that in your life?
ADVERTISEMENT - CONTINUE READING BELOW
I was glad I got lost in that beautiful nowhere because in the end, I was still found.
READ MORE:
When You Meet Your One Great Love
Maybe We'll Meet Again When We're Stronger and Wiser
For the Guy I Have Yet to Meet But Not at This Time
Sent in by Janessa Tek-ing. Got your own story to tell? Drop us an email at candymagazine @gmail.com! We'd love to hear what you have to say. If you're lucky, you just might get published in this space, too! Please indicate if you want to remain anonymous. We're also looking for artwork and illustrations to use with the stories, so please send some in if you want to be featured!