Maybe it's about time to express the longing agony and loneliness I have felt since the day you've been gone.
While I was typing these fragments of thought, I was fighting the urge to cry. Who wouldn't, anyway? It took a lot courage to even say this particularly to let you know how much I've cared. How much I've told myself that I should get over you, but I just can't.
I was just an ordinary girl who fell in love with someone she thought had also fallen in love with her. An ordinary girl who trusted giving her heart to someone she thought would never break it apart. Yes, you read it right. For never have I ever thought that one day, I'd lose him.
It never came up in my mind that one day, I'll be seeing you with someone looking so happy yet contented. All those times I was with him, I always pictured that he'd be the one I'd be spending the rest of my life with. But I was wrong.
I never thought that someday he'll be fine without me by his side. And that's what hurts the most: Seeing him like as if what happened between us wasn't that important. It was as if he never knew me. It was as if I never existed. It was as if he never held me in his arms even just once.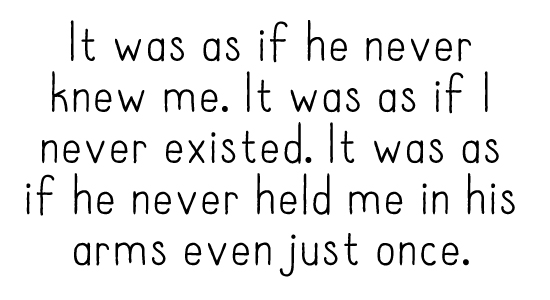 ADVERTISEMENT - CONTINUE READING BELOW
Every day, my life was like a very hard jigsaw puzzle that no one can ever solved. I was all screwed up with my first heartbreak, my first death actually. I couldn't even see how was I going to continue and pursue my life again without him. He was like my Gemini. He was. We shared the same dreams. Everything between us was congruent. And maybe it was all my faul. I was so dependent on him. He was like the blood inside my entire body. He lit up everything. He served as the fuel to make heart beat. But now? I don't even know if he's still that fuel I've had.
READ: To the One Who Left Me
It has been a year now since I last saw him. He's got someone else now and I hate it. I wish it were still me. But it isn't and the reality always slaps me with it. Every day's like a knife stabbing my heart.
Now, I wrote this open letter because I thought this could be the right time. Maybe it's about time that I face the future without him by my side. Maybe this is the last time I'd keep him inside my heart and mind? Maybe it's about time to move on? Maybe? I wish it is because I'm tired of endlessly weeping. I'm tired of waiting for him to come back. Maybe it's about time I fix my first heartbreak.
I miss you, and I'm letting it all go now;
Thank you for teaching me live by my own now.
Gigugma tika, but I'm so sorry I can't take every heart aches now. Bye.
Sent in by Nesh Reese. Got your own story to tell? Drop us an email at candymagazine @gmail.com! We'd love to hear what you have to say. If you're lucky, you just might get published in this space, too! Please indicate if you want to remain anonymous. We're also looking for artwork and illustrations to use with the stories, so please send some in if you want to be featured!